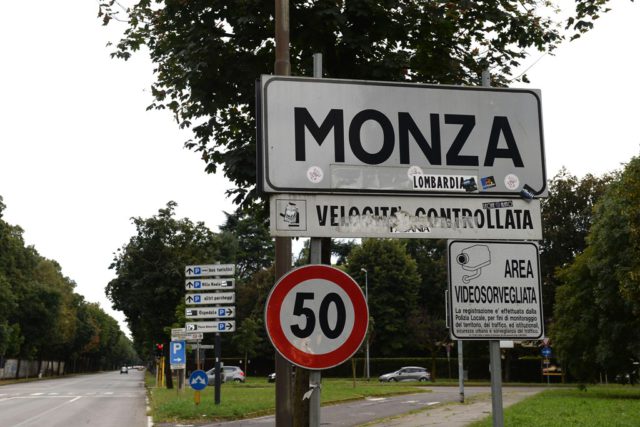 Built in 1922, the Autodromo Nazionale Monza epitomises the history and drama of the Formula 1 World Championship. Only once, in 1980, has the circuit not been included on the F1 calendar and the 5.793km/3.600-mile lap remains the fastest of them all, with an average speed approaching 259km/h/160mph. The old banking – last used in 1961 – is still clearly visible, as are many of the old grandstands. Aptly, the track is called 'La Pista Magica' by the fanatical Italian racing fans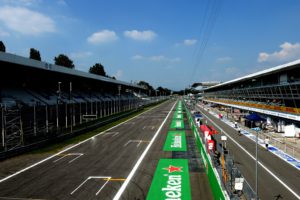 Monza Power Unit Notes
Monza is the most power sensitive track of the season. More than 75% of the lap is spent at full throttle, more than any circuit of the season. There are four long periods of open throttle, each holding an average of 13secs bursts. The first is the pit straight, followed by the run through the Curva Grande, then from the Lesmos to the Variante Ascari and finally from Ascari to the Parabolica. The longest time the power unit will be at full throttle is the pit straight, which lasts 16 secs.
Despite the ICE being flat out for most of the lap, fuel consumption per kilometre is relatively low compared to slower tracks. This is due in part to the short length of the track and to maintaining a constant speed throughout, but also due to the high average speed with low downforce package that reduces the time spent to complete the distance.
The long periods of wide open throttle generate a steady stream of exhaust gas. The energy available in the exhaust due to the high percentage of full throttle time means that the turbo will be at maximum speed for over 80% of the lap.
Despite the heavy braking for the three chicanes, the MGU-K is not significantly stressed in Monza. Each braking event is very short and there are only three slow corners. In comparison to a corner-rich circuit such as Hungary, the MGU-K barely recovers the maximum energy allowed. To compensate, the MGU-K recovers energy at partial throttle through overloading the ICE, although it will be difficult to harvest the max energy allowed by the regulations. The MGU-H will also feed the MGU-K down the straights.
The chicanes will see the cars brake from well over 300kph to 80kph but accelerate back up to 300kph in less than eight seconds. This creates a braking event of around one to two seconds, or quicker than a blink of an eye. It's important for the car to be stable under braking and acceleration so engineers will pay particular attention to the engine maps and how they interact with the low downforce aero configuration.
In Numbers:
3.3 – (lbs), in 2007 a truffle weighing 3.3 pounds (1,49kg) sold at an auction for $333,000 (USD), a world record for a truffle. It was discovered by a dog named Rocco.
75 – 75% of Italy is mountainous or hilly.
25 – The average Italian eats around 25kg of pasta every year.
500 – There are over 500 different types of pasta eaten in Italy.
Race title Formula 1 Gran Premio Heineken d'Italia 2017
Circuit name Autodromo Nazionale Monza
First race 1950
Previous winners
2016 Nico Rosberg, 53 laps, 1:17:28.089s
2015 Lewis Hamilton
2014 Lewis Hamilton
Travel
City Milan
Time zone BST+1 / CET
Population 1.6 million
How far? Monza is 601 miles (967km) from the McLaren Technology Centre
Getting there Being the final European race of the season, this is the last time in 2017 that the team will take its transporters and the Brand Centre to a grand prix. They will travel straight from Spa-Francorchamps, scene of last weekend's Belgian Grand Prix. For people travelling from the UK, there are plenty of flight options into Milan Linate, Malpensa and Bergamo
Surprising fact Monza is twinned with another motorsporting Mecca, Indianapolis in the USA. It is also the home town of former F1 driver Vittorio Brambilla
Local speciality Cassoeula, a pork dish that's been linked to the Lombardy region of Italy for centuries. Virtually every part of the pig is used in the dish – ribs, trotters, head and skin – and it's cooked in a casserole and mixed with savoy cabbage. It's a pleasure that furnishes the soul as well as the palate, according to a local writer
Weather The humidity of mid-summer has usually started to subside by September, leaving fresh and warm autumnal days. Recent temperatures have been higher than the seasonal average, with the weather forecast for the race weekend predicting temperatures in the high 20s
The Monza track
Track length 5.793km/3.600 miles (6th longest track of the year – longest: Spa-Francorchamps, shortest: Monaco)
2016 pole position Lewis Hamilton, 1m21.135s
2016 fastest lap Fernando Alonso, 1m25.340s (lap 51)
Lap record 1:21.046s (Rubens Barrichello, 2004)
Tyre choice Red Supersoft, yellow Soft and white Medium compounds – the sixth time this combination has been used in 2017
Distance to Turn One 380m/0.236 miles (longest of season: Barcelona 730m/0.454km)
Longest straight 1.12km/0.696 miles, on the approach to Turn One (longest of the season: Baku, 2.1km/1.305 miles)
Top speed 370km/h/224mph, on the approach to Turn One (fastest of season)
Full throttle 75 per cent (highest of the season)
Brakewear High. There are only six braking events around the lap, but all are from high speed and generate high brake temperatures
Fuel consumption 1.89kg per lap, which is average
ERS demands Medium. There are four long straights, along which the cars exceed 330km/h/205mph, and only a couple of heavy braking zones in which to harvest braking energy
Gear changes 46 per lap/2438 per race
Race
Laps 53 laps
Start time 14:00hrs local / 13:00hrs BST
Grid advantage Monza is used for racing throughout the year, so the track is clean and there's less of a grid advantage than at some tracks. But the racing line – and pole position – is on the outside of the track, so it's likely to be slightly cleaner
DRS There are two DRS zones, on the approaches to Turns One and Eight
Don't put the kettle on… Mercedes were the only points-scoring team to complete last year's race with one pitstop. Their drivers made their only visits to the pits at half distance. The stop-stop runners changed tyres, typically, on laps 16 and 33, but with this year's harder tyre compounds, a one-stop strategy is expected to be within reach of most cars
Pitlane length/Pitstops 420m/0.261 miles (longest of the season: Silverstone, 457m/0.283 miles). A pitstop takes 21s, but the time loss to those on-track is the biggest of the season because they are travelling at 370km/h/205mph, while those in the pitlane are either limited to 80km/h/50mph or are stationary
Safety Car likelihood 45 per cent, which is low
Watch out for… Turn 11, the Parabolica. It's a 180-degree right-hander that eases towards the exit and it's crucial for the drivers to get back on the power early because the longest straight on the lap follows
Force India's Chief Race Engineer, Tom McCullough, previews the final European race of the season
"Monza is another one of the historic tracks in the Formula One calendar: the Italian fans, the tifosi, help create an incredible atmosphere and it's generally one of the favourite races of the year for everyone involved. From a technical point of view, the Temple of Speed is a unique challenge: nowhere else we experience such low drag and low downforce, and this means the set-up of the car has to reflect these special demands. The long straights are the hallmark of this circuit, with high straight-line speeds and six big braking zones providing a true test for the brakes. The low number of corners means fewer occasions to differentiate between cars – in qualifying, very small margins can make a big difference."
So long, Spa… hello Monza! ? #ItalianGP ?? #F1 pic.twitter.com/RnJDiCLJO4

— Formula 1 (@F1) August 30, 2017