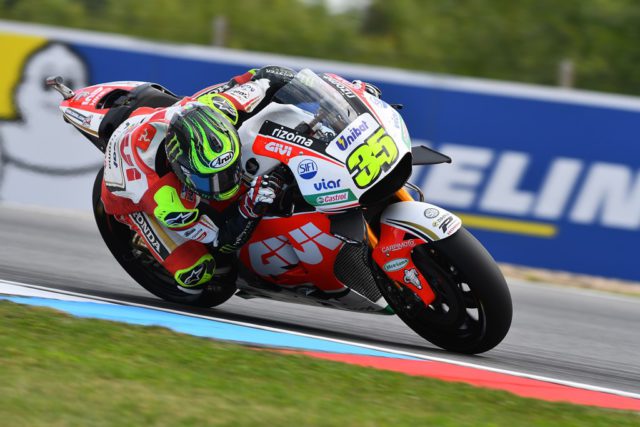 Cal Crutchlow made a blistering start to his home Grand prix at the Silverstone circuit, ending Day 1 as the fastest rider in MotoGP practice. In a retro Aaron Slight-inspired Castrol livery, Crutchlow rolled back the years to give an impressive Friday crowd a huge boost ahead of Sunday's race.
Crutchlow had already gone fast in the morning session, and then as the afternoon practice progressed he stuck in a stunning lap of 2:00.897min. At that point it was seven-tenths quicker than anyone else, and finished almost a quarter of a second ahead of his nearest rival Valentino Rossi.
The 31 year-old took pole position at this circuit a year ago before taking second place in the race.
"Obviously we are pleased with how today went, we tried every option of tyre there was and in the last run I kept the used front, which was a little dangerous with a new soft rear. It was just to make sure we were in the top ten because you never know what can happen tomorrow morning – if there's oil on the track and the times aren't as fast for example. We are working very well as a team as always and trying our best – and at the moment that's first place!", Crutchlow commented.
"They've resurfaced a couple of corners here and they were a lot better, so how about we resurface the whole track?! It'd be a lot easier for all of us. The problem is that wherever we share a track with F1, the tracks are bumpy within a year, so I understand the concerns of the organisers. I felt ok either way, an hope for a good day tomorrow."
We are working very well as a team as always and trying our best – and at the moment that's first place!, Crutchlow commented
Cal finishes the day in the first place! @calcrutchlow @Castrol @GIVI_OFFICIAL #BritishGP #HomeGP pic.twitter.com/dxgDsOtze0

— LCR Honda MotoGP (@LCRHondaTeam) August 25, 2017