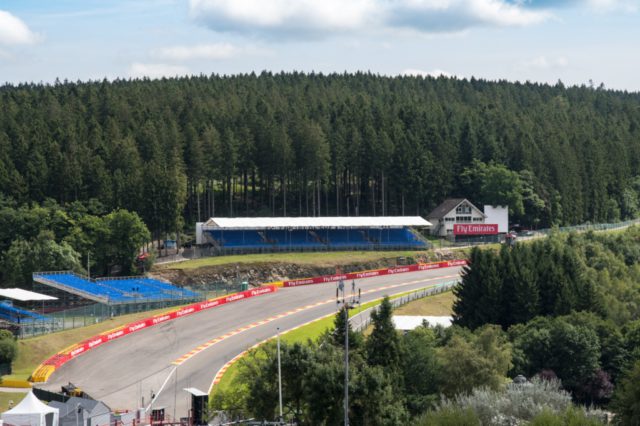 Lewis Hamilton (Mercedes) was fastest in Friday's free practices at the Spa-Francorchamps circuit before the F1 Belgian Grand prix. Ferrari's Kimi Raikkonen was second after setting the best time in FP1. Valtteri Bottas gave the third best time.
20 MINS TO FP2 ⏰

Take a look at what happened in FP1 with our 65-second highlights ?#BelgianGP ?? #F1 pic.twitter.com/2etGWDxpUb

— Formula 1 (@F1) August 25, 2017
Hamilton was fastest with the purple ultrasoft tyres, beating last year's FP2 benchmark by 3.3 seconds. His best time of 1:44.753min also beat last year's pole (set on the supersoft) and took him very close to the all-time Formula 1 record for the fastest lap at Spa: 1:44.503s, which dates back to Q2 in 2009.
FP2 HIGHLIGHTS@LewisHamilton reigned before the rains came ☔️#BelgianGP ?? pic.twitter.com/Dlvk4NGjbo

— Formula 1 (@F1) August 25, 2017
The afternoon's FP2 session peaked at 34 degrees of track temperature and 27 degrees ambient. Then it cooled down until heavy rain fell at the end of the session – with Red Bull's Daniel Ricciardo the first to try the intermediate tyres.
"Today felt like one of our strongest Fridays so far this season", Hamilton said
"The car felt strong all-round straight out of the box. We made some good steps with the set-up right from the start of FP1, which is a really encouraging way to kick off the weekend."
"It looks tight at the top on the long-run pace, but we've started the weekend in the best way possible."
Bottas felt there "is still a lot of margin" in the next days.
"Overall, it was a tricky day. We had some trouble setting up the car and I didn't feel too comfortable in the beginning. But in the end it was getting better, we made quite big steps."
"The performance of our car in general is looking good; however, there is still a lot of margin to optimise the car. The long runs in the end were interrupted by the rain, but that was obviously the same for everyone. I'm glad that we at least got a few laps in with high fuel."
FP2 INITIAL CLASSIFICATION (90/90 MINS): A three-way battle at the weekend? #BelgianGP ?? #F1 pic.twitter.com/aCBoNNTS8m

— Formula 1 (@F1) August 25, 2017