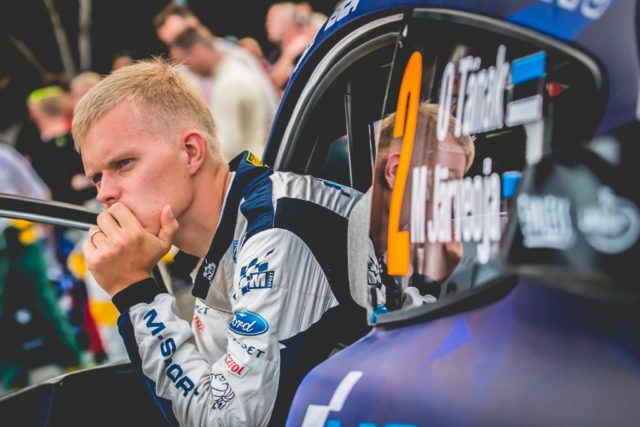 Ott Tanak has taken the second World Rally Championship win of his career with a hugely impressive performance on Rallye Deutschland, which took place during last weekend on the challenging asphalt roads of the Saarland region.
Following up their Sardinia win earlier this year with a controlled victory on a different surface, Tanak and co-driver Martin Järveoja strengthen their third place in the championship standings with three rounds remaining. The Estonian driver answered Red Bull Media House's questions after the race.
He also moves closer to the top two of Sebastien Ogier and Thierry Neuville, who were having an intense fight in Germany until the Belgian suffered the misfortune of his Hyundai's suspension breaking on Saturday's first stage. While Neuville failed to score as a result, Ogier finished in third place and opens up a 17-point margin at the top of the standings.
Taking second in Germany was another stand-out performer, Andreas Mikkelsen, who secured a fine podium finish on only his third rally for Citroen, and even led the rally for a time on Friday.
Ott, what did you find the hardest thing about Rallye Deutschland this year?
Ott Tanak: "I think Germany is always very tricky with all the different conditions, and that was especially true at the beginning of the rally. On Friday it was very extreme with some horrible weather – big rain and storms. So it was not so easy but after this, the conditions improved and it was quite nice to drive."
Who was your strongest competitor?
OT: "Obviously Andreas Mikkelsen was the closest guy behind me, so I had to keep an eye on him. Martin and I built a good gap which we just had to maintain and luckily we didn't have to push in the second half of the rally. We just had to drive smart."
What was the biggest mistake you made, and what was the thing that you did best?
OT: "On Friday we had a big moment when I ran wide and nearly didn't get back on the road, but other than that it was quite a clean event. I think one of the key moments was maybe the tyre choice on Friday. We had quite an aggressive tyre choice but in the end it worked out very well, so it was a smart move."
What was the strongest point about your car here?
OT: "The Fiesta was just the fastest. It's very easy!"
Which was your favourite stage?
OT: "It's a good question. The most specific stage was Panzerplatte, very long, over 40 kilometres, with lots of technical parts and the 'hinkelsteins' at the side which you have to avoid at all costs. So, I'll pick this one."
How does the challenge of Rallye Deutschland compare to other asphalt rallies?
OT: "I think you can compare this one to Monte Carlo, with some very tricky conditions, slippery roads and constantly changing grip. Normally Corsica and Spain are much more clean. I wouldn't say they are easier, but they are more consistent to drive. This one and Monte are still quite extreme."
Who do you think will win the championship this year?
OT: "I think it will be me!"
Following a six-week break, the championship moves to Spain for the only mixed-surface fixture of the season. Rally RACC Catalunya – Rally de España is based in Salou on 5-8 October.
VICTORY @ADACRallye DEUTSCHLAND!! ?? #WRC #ADACRallye pic.twitter.com/rMzEz2UUXF

— Ott Tänak (@OttTanak) August 20, 2017