Thierry Neuville gives away the secrets of Rallye Deutschland, which helped him take victory in 2014. The Belgian explains a crew needs a good set-up, confidence and precise pacenotes to get success on the German tarmac.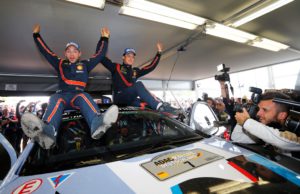 What's your best Rallye Deutschland memory and why?
"Our first win in 2014 considering we started with seven rolls on shakedown and destroyed the car. Having the team do a fantastic job to be able to start the rally the next day was enormous and one of the best memories in my whole career, not just in Germany."
And what's your worst Rallye Deutschland memory and why?
"Definitely the rolls on shakedown. We were struggling with the performance of our car and the team was new, but we expected a good result in Germany. But then it all started to go wrong. We had a huge roll and it really wasn't nice. But in the end, everything was forgotten when we finished the rally in first place."
How tough is the event?
"It's tough because you have different characteristics on each day. You have the Baumholder military ranges, the country roads in Saarland and then the vineyards. Most years there is rain on at least one day so it makes it complicated and challenging."
What does it take to be successful on Rallye Deutschland?
"You of course need a good set-up and a lot of confidence. You also need to be really precise with your pacenotes, especially in the vineyards. The roads are very fast and narrow with lots of blind corners. It's difficult to read the road and it's easy to make a mistake."
As it's effectively your home event how much pressure are you under?
"I have always been fast on this event, always fighting for the podium or victories, so it's probably the rally where I have the least pressure because I know I will be at the front. So, I just try to enjoy it."
How confident are you of a strong result this year?
"I'm quite confident. We saw in Corsica earlier this season that our car is fast on narrow, technical roads."
After Germany, there's quite a gap until the next round in Spain. How will you fill your time and stay motivated?
"The motivation is always there and I will be quite busy. I will go to the Belgian Grand Prix the week after Germany to see my friend Stoffel Vandoorne [at McLaren]. Then I will have one week off for some holiday and time with friends. And I'm also doing the theory part for my helicopter licence so I need some time for that."
Everywhere in the world ?, our Belgian fans are supporting us! ?????? pic.twitter.com/9uj4JNfVRT

— Thierry Neuville (@thierryneuville) July 30, 2017