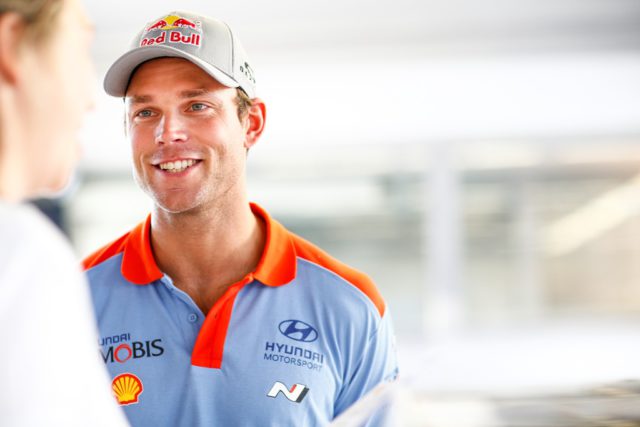 Andreas Mikkelsen joined the Hyundai team in the World Rally Championship for the last three rallies of this year's campaign. He also signed a 2-year contract with the Alzenau team and thinks that it has the winning package to fight for both championship titles.
How did your drive with Hyundai Motorsport come about?
"Of course, after last year I have been in contact with all the teams and it's no question after seeing the performance of the Hyundai I would be really keen to find something to do with them. I tried the Hyundai i20 Coupe WRC earlier in the season; I really, really loved it and it felt awesome. But then I did some rallies for Citroën, three rallies which allowed me to get back into that WRC feeling again because it had been a while. Now my chance has come about with Hyundai and I am really looking forward to starting."
What was it about the team that impressed you?
"When you see the performance of the Hyundai i20 Coupe WRC it's a winning car on every surface in the championship. The team has been around for some years now and they really have the winning package to fight for both championship titles, so to get the opportunity to join the team is absolutely a dream come true."
What do you hope to achieve with Hyundai Motorsport for the remainder of this season?
"I will definitely do my best to firstly help the team in the manufacturers' championship and of course being team-mates now with Thierry [Neuville] in his shot for the drivers' title is a really interesting one, and for sure I will help him in that. We go a long [way] back, we've been fighting with each other since we were almost kids, since 2010, so we've been competitors for a long time. Now we have finally teamed up and I think this will work really well and I will support him in any way I can because I am not really driving for my championship this year."
And what are your thoughts on Rally de España?
"I have very good memories from this event. Of course, it was the first rally where I had my victory [in 2015] and it brings a lot of good moments back every year. It's a really difficult rally because it's on both surfaces at the same time and you have to switch from tarmac to gravel very quickly without any testing between, so it's a bit of a challenge but very enjoyable."
Back for more changes, important to learn the #Hyundai on many settings! #RallyRACC #Shakedown #HyundaiWRC pic.twitter.com/a977kIDKVh

— Andreas Mikkelsen (@AMikkelsenRally) October 5, 2017