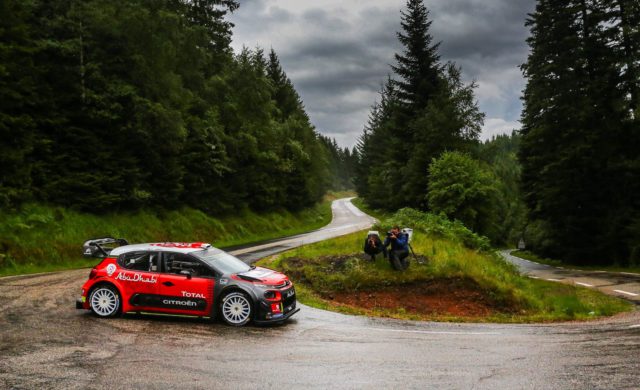 Sebastien Loeb is being lined up to test Citroen C3 on gravel. The 9-time world champion gave the French manufacturer valuable data on asphalt on Tuesday.
The 43-year-old linked up with long-time co-driver Daniel Elena on Tuesday to test the 2017-specification C3 in both wet and dry conditions in the Moselle region of France.
The duo provided plenty of useful feedback and Citroën Racing team principal Yves Matton confirmed they could now conduct a similar evaluation exercise on gravel.
With the remaining 2017 WRC events in Spain, Great Britain and Australia featuring loose-surface stages, Loeb's input could give Citroën the performance boost it needs to end a disappointing season on a positive note.
"For the moment, nothing is decided. But I think it will be interesting to have him on a gravel test session," Matton told wrc.com. "We will see if it is possible. He is quite busy with his rallycross programme and his cross country events."
Speculation about Loeb being lined up to make a WRC return has gathered momentum since news of the Frenchman's planned asphalt test broke at Neste Rally Finland last month.
Although Matton ruled out a competitive WRC return this season. He didn't discount the possibility of Loeb resuming his distinguished WRC career at a later date.
He said: "There is no chance to do any rallies for him for the moment in 2017. I think we have to see what his plans are first. I think the only next step that we can see for the moment is a gravel test."
In the meantime, the data that Loeb gathered yesterday could be used to boost Citroën's asphalt performance. As drivers Kris Meeke, Craig Breen and Andreas Mikkelsen prepare to do battle at the upcoming ADAC Rallye Deutschland (17-20 August).
"What Loeb did this morning was quite interesting. And it was quite helping us also if we have some raining conditions in Germany. Due to the lack of feedback we had during the Germany test in rainy conditions, Matton said.
"Now we have to see the weather forecast for next week. To see if we can use what he did this morning. But his feedback is really interesting and his technical knowledge helps us a lot."