McLaren had a difficult Canadian Grand prix in which only one driver finished and it was outside of the top 10. Both Fernando Alonso and Stoffel Vandoorne agreed that overtaking opportunities were few. Neither could make great headway through the field without the help of a good strategy call.
Alonso made up three positions after his first stop and benefitted from opportunities in the Safety Car window. But a points finish wasn't meant to be. He was forced to retire on lap 41 due to a broken charge air cooler pipe which led him to lose boost pressure.
"The race was fun at the beginning, especially after the restart, when we overtook three cars in two corners"
"Sergio [Perez] was on the grass sideways and came back onto the track, so it was difficult to anticipate what line he would have taken. Then halfway through the race, I felt a loss of power and was told to retire", Alonso explained.
"It's sad, frustrating and I'm disappointed with this result. We weren't competitive this weekend. We need to find more performance in the car and a way to become competitive. Reliability is also important, as we saw at the beginning of the year how many points we scored and how many we've lost now in the last two races, by retiring today and retiring in Monaco when we were running in seventh position."
"There are a few areas of the car that we need to keep working on and improving. And we'll see what happens in the next couple of months."
Not our weekend. But in 2 weeks we try again ?. https://t.co/NHQo6Lo7mV

— Fernando Alonso (@alo_oficial) June 10, 2018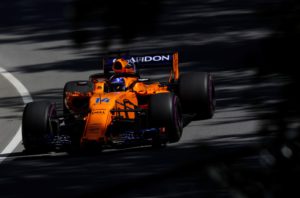 Alonso flew last night to France as this week he will take part in the 2018 24 Hours of Le Mans
Vandoorne had a right-front puncture after running over debris from the first-lap incident. He endured a slow pit-stop that put him to the back of the field. In addition, he spent the final laps of the race nursing an intermittent electrical management issue which meant he was unable to push the car to its limits. He finished the race in 16th place.
"I think we were extremely unlucky from the start. We had a good launch off the grid. But with the accident that happened, there was so much debris to find our way through into Turn Five, and it was impossible to avoid it. We had a front-right puncture. And we basically ran out of tyres already before we even really started the race. So it was a difficult day. A big piece of debris went under the car so we were forced to pit on the first lap and then lost a lot of time in the pit-stop as well. Before we even got into the race it was already over", Vandoorne commented.
"On a personal note, on my side, it's been very positive in terms of the progression we've made over the past couple of races"
"The disappointing thing here was our qualifying performance for the team as a whole. We knew that before coming here and unfortunately it got confirmed. We've got a lot of work ahead."
"It's hard to tell how the next few races will be for us. We don't want to make any predictions. And if you look at last year there were some races that we thought would be difficult but turned out to be alright. We have to wait and see. Paul Ricard will be a new track for everyone. And then Austria and Silverstone [come]. So a busy couple of weeks ahead but I'm looking forward to that and hopefully we'll have some better luck."
Very unlucky race that was compromised on lap 1 with a puncture due to debris ? Looking to turn things around with a triple header coming up! pic.twitter.com/buV1CDfReI

— Stoffel Vandoorne (@svandoorne) June 10, 2018