Jussi sat up in bed, blinked as the Saturday morning sunshine hit him squarely between the eyes and yawned. Momentarily concerned about what it was that had woken him, he remembered where he was and grinned.
"If," he shouted to nobody in particular, "you want to win, you need a Finn."
You might wonder how we know about the inner workings of Jussi's bedroom on a Saturday morning; this was Neste Rally Finland from the 2017 WRC, the week when bedrooms move outside.
Jussi had taken things a step further. Not for him a sleeping bag and some rough ground, he'd brought a double bed to the car park and installed it under some sort of gazebo-type arrangement.
Talking to him on the eve of the event, a day earlier, it was clear how much his home nation's round of the World Rally Championship means to him and his pals.
"I love rally," he says. "It's so big for the place here. Every year is big party. I come from near Lahti and every year I am coming here and bringing bed for sleeping. Many friends are coming also in the same place, but they are bringing van for sleeping in – I prefer this way in the outside. If rain is coming I have roof. My tent has no walls, but rain is not coming sideways."
Sideways stops him in his tracks.
"Sideways," he grins, "sideways like rally car…"
Wherever you go in Jyvaskyla, you meet Jussi's friends. As the rally progresses this part of central Finland becomes universally friendly with thousands of like-minded folk coming together to celebrate this annual speed-fest, the gravel grand prix.
There's plenty of beer and pear cider consumed, washing down any number of barbecued-black sausages and the atmosphere is universally welcoming and happy.
"We plan for this rally a long time before," says Annu, a wife and mother of two who has travelled from Helsinki and is watching in Friday's Laukaa test."Neste Rally is the big part of our holiday, we look forward every year to this moment. We are camping near Jyvaskyla and then we drive to as many stages as we can."
Like everybody, Annu has seen big changes out on the stages this season.
"Finns are back," she says with a broad smile. "For a long time we were not seeing them so much. Not so many people were coming to watch this rally – we didn't have so many drivers to make heroes."
For the last few years, Jari-Matti Latvala has been a lone Finnish voice among the factory drivers in the WRC. But this year was different. At one point this last weekend, Finns filled the top four places on the leaderboard, with Latvala's Toyota team-mates Esapekka Lappi and Juho Hanninen joined at the sharp end by privateer Ford Fiesta WRC driver Teemu Suninen.
There are few more hardcore rally fans in Finland than Latvala
He lives and breathes the sport and the last few years have hurt him.
"It hasn't been so good to see the crowds not so big," says the Toyota star and winner of Rally Sweden earlier this season, "but now the fans are really back. The car parks and the stages are full and this is the first time for a long time that we have seen this. When the fans are coming out, it really makes the atmosphere around this place very special. It's so nice to drive when the people are waving their flags and cheering."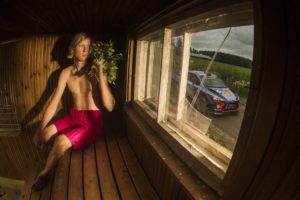 And the national fervour is really ramped up for a four-time world champion. Latvala's boss and the man in charge of Toyota Gazoo Racing, Tommi Makinen is out watching and the crowd goes mad.
But by Monday morning all is quiet in Jyvaskyla. Saturday night is party night in the university city and the hangover has almost gone. For most of the population, Sunday night's a dry affair in deference to descending from planet rally in time to return to normality at the start of the working week.
Monday morning arrives and Jussi is up and packing his bed away. Time to go home and stop sleeping under canvas with no walls.
"Fantastic week, hey," he smiles broadly
"It's always sad when rally time is over. Now is the long wait until the next one but, OK, it's a good result for Finland; Finns are back."
As I bid him farewell, the man whose bedroom has been Jyvaskyla city itself for the last week holds the handshake a moment longer.
"Like I told you," he beams, "… if you want to win, you need a Finn!"
After last weekend, it's impossible to argue with a nation who fell back in love with something it's extraordinarily good at.