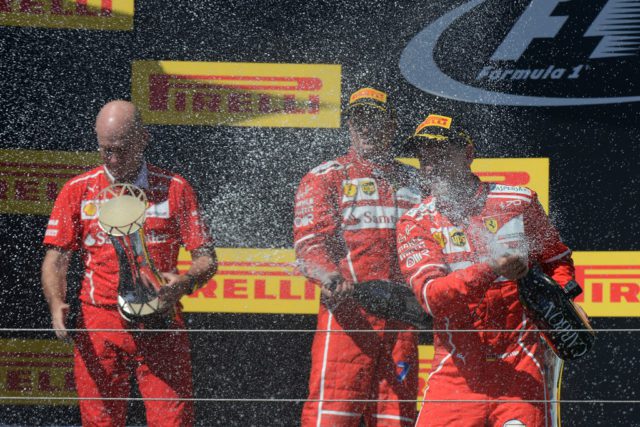 Sebastian Vettel and Kimi Raikkonen took a double victory for Ferrari at the F1 Hungarian Grand prix. Both drivers were happy with the result. Vettel admitted he had to fight his steering wheel during the race.
"Everybody inside the team can be very happy and proud of what we have done! Afterwards, I said to Kimi that I was sorry because I was slow and struggling during the race. For Kimi, it was not good to be there in the middle of a sandwich. It was a tough race that, in the end, kept a good shape", Vettel explained
"I developed a problem with the steering wheel and I don't know why yet. We need to avoid it happening again of course, but during the race, I didn't have an option. It's not like parking the car, check if everything's all right and then fix the problem. It was quite annoying because it was a strange feeling. But then, at some point, I forgot about it and just tried to get used to it, which was tricky because it just kept changing and getting worse. However, in the end, the pace was still there."
"More generally, I don't like the short term view that some people have, that after a good race everything is great and you are the hero, but after a bad race, it is a disaster. It is not fair because people work hard spending a lot of time, working all together on the car. In my opinion, we have the best car and downforce which, hasn't been the case for many years. In the end, we can make a difference and we have done that so far. We have our testing days here next week and we have a lot of work to do. After that, there will be the Belgian GP. Our car has been good there and I think we have some improvements, so it should be fine."
? That winning moment ?

What a way to celebrate your 50th race for @ScuderiaFerrari#HungarianGP ?? #F1 pic.twitter.com/feuO9VAewL

— Formula 1 (@F1) July 30, 2017
Raikkonen said his car was amazing and the handling – perfect.
"I was always feeling comfortable; even following Seb from very close behind, the behaviour was fantastic. I had no worries that Mercedes could get me. I had a pretty good start and a good run in the first corner; then I took it quite easy. In places like this, it's tricky to try and overtake and I did not want to force things too much with my team mate. When you end up between two cars is not the easiest situation", he added.
"When they called me for the pit stop I wanted to stay on track a bit longer because I felt I had the speed, but the team has the big picture and I trust them. I ended up following Seb through the whole race and I was never able to use my full speed. Today I knew I had all the tools to finish in a better position, but I should have done a better qualifying. I'm happy with the result that we achieved as a team and this is the main thing. I'm here to win races, but If you take the big picture it was a great weekend, we got the maximum out of it."
Your #F1DriverOfTheDay?

It's Kimi! #HungarianGP ?? #F1 pic.twitter.com/vOXESaGPMq

— Formula 1 (@F1) July 30, 2017