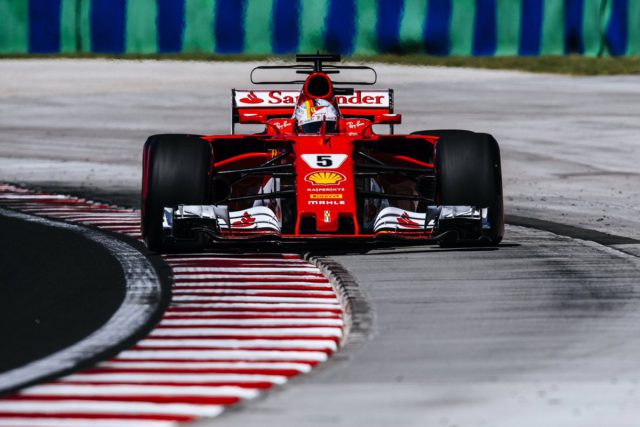 Sebastian Vettel managed a race-long steering issue to claim victory at the Hungarian Grand Prix in Hungary. He was ahead of Ferrari team-mate Kimi Räikkönen, rebuilding his title lead over Lewis Hamilton, who took fourth. Vettel controlled the early stages of the race, pulling away from Räikkönen, before complaining that his steering wheel was not central.
But despite repeated messages to stay off the kerbs, pressure from Räikkönen and Mercedes, he held on to take his and Ferrari's first win since Monaco. Mercedes gave Hamilton a run at the Ferraris. But he could not get close enough to make a move. And, as agreed, let Bottas back through on the final lap.
Max Verstappen, who went long on his first stint, having picked up a penalty for hitting Red Bull team-mate Daniel Ricciardo at Turn 2, got within half a second of Hamilton at the line. Vettel's win and Hamilton's fourth-place finish mean that the German now holds a 14-point advantage in the standings, as F1 enters its summer break.
As the lights went out at a baking hot Hungaroring, Vettel made a clean start to keep Räikkönen, with Bottas holding third, as Hamilton got jumped by the Red Bulls. Verstappen, though, had to slam on his brakes to avoid Räikkönen, which gave team-mate Ricciardo a run towards Turn 2, the pair going side-by-side.
Under braking, Verstappen went too deep and slid into the side of Ricciardo's car, inflicting terminal damage, and prompting the Australian to call his team-mate an "amateur". As the race restarted, Vettel bolted clear through the final sequence of corners and quickly built a solid lead over Räikkönen, as Verstappen, hit with a 10-second penalty, split the Silver Arrows.
Vettel was cruising up front when he noted a steering issue, his wheel visibly pulling to one side, forcing him to adjust his driving style throughout the lap. After the first round of pit-stops, Verstappen stretching his stint out in a bid to reduce the impact of his penalty, the two Ferraris and two Mercedes ran line astern.
Hamilton, without a radio in the early stages, regained contact to the pit wall at this stage, and shouted to his engineer: "I've got a lot of pace, let me use it!" Mercedes duly responded, asking Bottas to move aside, which he did, before being reassured that
Hamilton would hand the position back, if he failed to pass Räikkönen.
Hamilton did his best to challenge the Ferraris. But he could not get close enough in the dirty air. And eventually had to back off, returning third to Bottas at the final corner. It came close to backfiring, with Verstappen, on much fresher tyres, having closed back in. But Hamilton had just enough in hand to keep fourth.
McLaren's Fernando Alonso ended his impressive drive to sixth with the fastest lap. He was posing for photographs on a deck chair, repeating his famous moment from Brazil in 2015. Carlos Sainz Jr. had led Alonso in the early stages. But he fell behind to a neat Alonso move around the outside of Turn 2, taking 7th.
Sergio Pérez and Esteban Ocon were eighth and ninth for Force India. Stoffel Vandoorne completed the points in the other McLaren. Haas difficult weekend continued. Romain Grosjean retired, having been sent out of the pits with a loose wheel. Kevin Magnussen finished a penalised 11th.
Magnussen forced Nico Hülkenberg off the track at Turn 2, landing a five-second penalty. Daniil Kvyat and Jolyon Palmer lapped considerably slower than their Toro Rosso and Renault team-mates en route to 12th and 13th.
Sauber duo Pascal Wehrlein and Marcus Ericsson were the final drivers to cross the line, with Hülkenberg officially classified. Paul di Resta ran respectably for Williams. As Felipe Massa's stand-in. But he was called into the pits 10 laps from the finish due to a technical problem.
INITIAL CLASSIFICATION (LAP 71/71): A win on his 50th Ferrari start for Sebastian Vettel 👏 #HungarianGP 🇭🇺 #F1 pic.twitter.com/FnGuEQBNeX

— Formula 1 (@F1) July 30, 2017