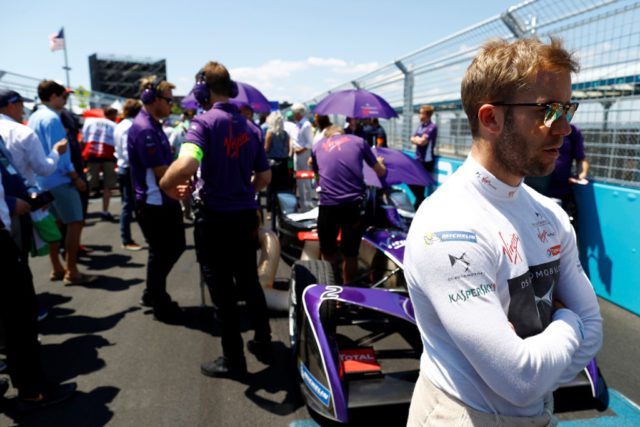 Following its dominant display in New York, the DS Virgin Racing team is confident its drivers can find their ways in the final two races of the season in Montreal. "We want to repeat this form in Montreal", Sam Bird said after his double victory in the United States
"We've won two in a row, so why not three or four? New York was just an incredible weekend for us. The team delivered a blindingly quick car with superb energy management so there's nothing stopping us continuing this performance in Canada."
For the weekend, Bird will be joined by his usual team-mate Jose Maria Lopez
Lopez was unable to race last time out, replaced by Alex Lynn who secured a superb pole on his Formula E debut.
"It was a shame for me to miss the New York rounds but the team did an amazing job and congratulations to Sam", Lopez said.
"I'm really looking forward to getting back in the car and it certainly looks like we've found some extra pace so I really want to help the team finish the season on a high."
New York saw the team amass their largest ever points tally with 56, leaving them comfortably in fourth spot in the team standings and just 29 adrift of third place. It also means Bird is one of four drivers who can mathematically win the drivers' title.
Set along the banks of St. Lawrence River, the Montreal track itself consists of 14 turns and winds its way along Rue Viger E and past Maison Radio-Canada, finishing on Boulevard Rene-Levesque E. Once again, drivers have two races to contend with – consisting of 35 and 37 laps respectively – reaching speeds of up to 210kph.
Team Principal Alex Tai commented:
"New York was an incredible event for us and we're keen to continue this success in Montreal. Berlin was a real turning point for us and we're confident we now have the pace to deliver yet again and end the season with more silverware."
DS Performance Director Xavier Mestelan Pinon added:
"After the team's performance last time out, we want to continue our winning ways in Montreal for the final two rounds. The drivers and the engineers have already been working hard in the simulator to learn the track and find that perfect set-up to help us achieve that. Every race is different and to succeed, we need to be able to face every situation thanks to our work and to our experience. There is no easy victory."
The #DSVirginRacing team is en route to #FormulaE #MontrealePrix Looks like @pechito37 is the first to arrive! RT #FanBoost #JoseMariaLopez pic.twitter.com/R58ijpXMo1

— DS Virgin Racing (@DSVirginRacing) July 26, 2017