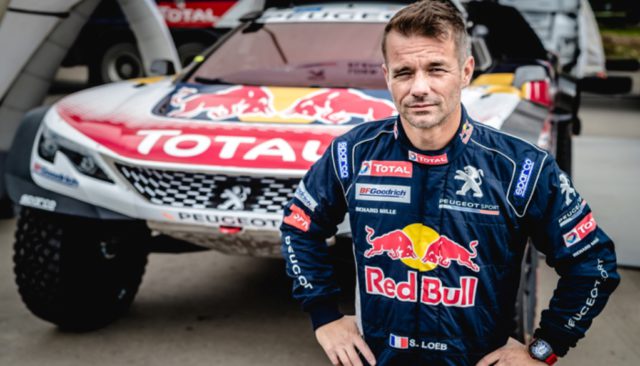 Sébastien Loeb will make a private test with the Citroen C3 WRC. Its aim will probably be the 9-time World Champion to evaluate the car as the team has serious problems with it this year.
The announcement was presented as a display of the opportunities, given by PSA Motorsport. The entity brings together Peugeot Sport, Citroen Racing and DS Performance at Versailles Satory, and it will shortly be celebrating its first anniversary. "This Centre of Excellence offers opportunities both in terms of technical synergies and in the field of sports, through the wealth of its programmes. It is an opportunity for drivers with exceptional ability, like Sébastien Loeb, to pass from one programme to another, and from one steering wheel to another!", the statement said.
Loeb behind the wheel of the C3 WRC is one such opportunity
After the test, he will be able to give technical feedback about the car.
Although it is just a test, this is still a return for Loeb to the red and white badge with which he started his career and which led to such eloquent figures: 9 times WRC world champion, impressive records, and also a successful partnership in WTCC. He practices a lot of different motorsport categories with the Groupe PSA brands. In 2013, Loeb smashed the record for climbing Pikes Peak with the Peugeot 208 T16 Pikes Peak. Then, still under the Peugeot Sport banner, he attacked Cross-country and the World Rallycross Championship. In 2018, Dakar will remain a top priority, still with his faithful Monaco ally, Daniel Elena, at his side.
The adventure is continuing not only in official programmes but on other fronts too. Such are national rallies with his 306 Maxi or his 208 T16 operated by his team, Sébastien Loeb Racing.
Sébastien Loeb said:
"With the creation of the PSA Motorsport entity, we can now form a single big team. At the same time as competing in cross-country and the World Rallycross Championship with Peugeot, I can bring my experience to Citroen by testing the C3. I can't wait to get back into a WRC and test how the technology has changed in that discipline! I'm still passionate about rallying. Of all the disciplines I've tried since I retired 5 years ago, it's the sensation of rallying that I love most."
Jean-Marc Finot, Head of PSA Motorsport, added:
"Sébastien shares Groupe PSA's values. That is fundamentally why his career with Citroen and then Peugeot has been closely intertwined for so many years. He's absolutely in tune with the team spirit and is one of the team's pillars. With its wealth of programmes, PSA Motorsport is able to give drivers the chance to use their talents for DS Performance, Citroen Racing and Peugeot Sport. In this way, drivers of Groupe PSA Brands benefit from varied driving experiences in line with their ambitions and adapted to their exceptional skills. They are members of the PSA family!"
Glad to have you back in the team, @SebastienLoeb ! Hope you'll enjoy driving #C3WRC soon and bring your experience to @CitroenRacing ? pic.twitter.com/GM8imuWl8X

— Linda Jackson (@LindaJackson) July 26, 2017