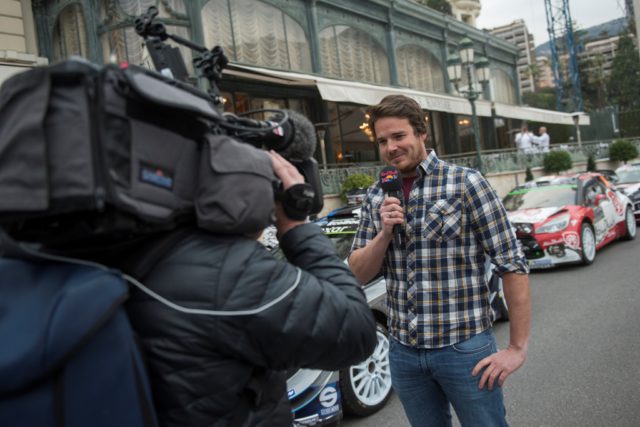 So you switch on your app or computer and suddenly there they are. Mike Chen and friends, hosting Red Bull TV's World Rally Championship coverage from every corner of the planet. Whenever you want to watch it. But how does it work? The people from Red Bull TV tell the tale, which is as fascinating as the championship itself.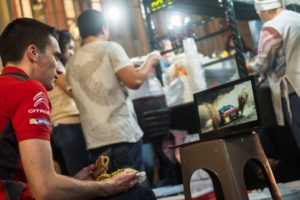 Heading up the show is Senior Producer Axel Ubben from Red Bull Media House. He oversees a team of around 16 crew every rally week. These include the three people in front of the camera. Mike Chen is the regular reporter. In Mexico he is joined by guest reporter and off-road ace Tavo Vildosola, as well as WRC expert Craig Breen (who normally drives for Citroen and is currently in the top five of the drivers' championship).
They're backed up not only by the people on-site, split into two edit suites and an outside broadcast truck, but also a crew based in Salzburg, Austria, responsible for airing the show. Mexico presents a couple of additional difficulties: it's the first long-haul event, seven hours behind Europe, and it takes place in two distinct areas. The spectacular super special stage on Thursday night was at Zocalo Square in Mexico City, while the rest of the rally is in León: 400 kilometres north.
"That's definitely a challenge, which is why we divide into two groups on Thursday," explains Axel. "One group, including the presenters, goes to Mexico City. The other stays in León."
Axel and the rest of the first crew left for Mexico City shortly after they arrived at the TV compound in León on Wednesday. Then it was hard work to cover the super special from the square that the Aztecs used to claim was the centre of the universe. But it's not all glamour. Once their work is done, Axel and his team of commandos fed the finished interviews back to León via satellite playout. And then returned there themselves… On an overnight bus, arriving at about 4am. Ready for another three days of full-on work against the clock back at the TV compound.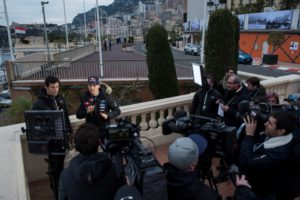 Preparation is key. To get as much done as possible in advance, the crew carries out three days of editing back at base in Salzburg before the start of each event. By the time everyone gets to Leon, all they have to do is follow the 'call sheet'. That's the team's bible that basically explains who is doing what, where, and when.
"There's so much work behind the scenes that people just don't see," points out Axel. "We also have a big brainstorming session after every rally to come up with the best and most different ideas for the future. We aim to really bring the excitement of the sport to the viewers at home. We're only a small team, but it's a really creative and reactive one."
It's just as well that everyone in that team gets on. They probably spend more time together than they do with their husbands and wives. On a rally, it's not unusual for the alarm to go off at 5am and bedtime not to happen until 1am.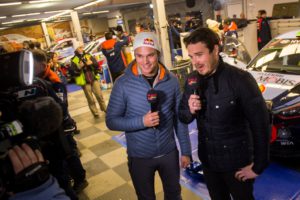 "You get used to it, but it's particularly tough for the crews who go out on the live stages," says Axel
"The roads are closed many hours in advance. So to drive in with all the equipment needed, you sometimes need to be in place by 7am for a stage that starts at midday, for example. That's just to guarantee all the essential parts of our workflow such as production meetings, rundown meetings and rehearsals."
At the end of each day, the highlights programme is put together in the edit suite. Then the team sends it to Salzburg via satellite to get dropped online. It's a tight schedule but the team has never missed a deadline. "The highlights go out at 10pm. We aim to make sure that Salzburg has the finished programme by 9.20pm," concludes Axel. "So far, in all the time I've been doing this, we've never been late!"
Hopefully, we haven't jinxed it now…