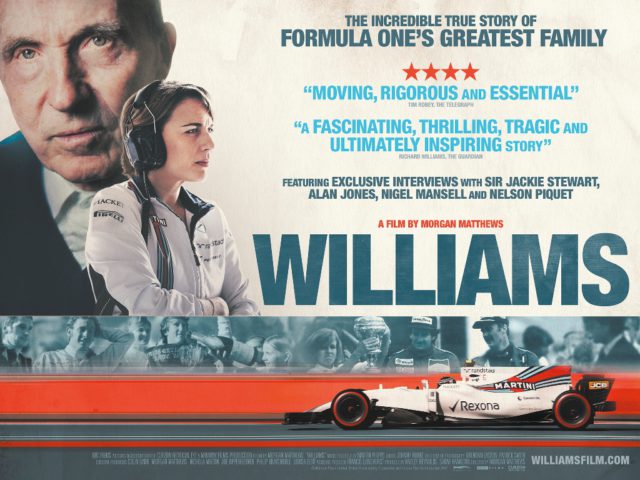 The story of Frank Williams and his Formula 1 team comes to the big screen this summer. A brand new documentary from BAFTA-winning director Morgan Matthews will have its premiere. The base for the film is the 1991 book by Lady Virginia Williams – A Different Kind of Life.
Sir Frank Williams said:
"I hope the fans enjoy the film as much as I've enjoyed being part of motor racing. I'm glad that both the people behind the team and my family come out as the true heroes of the story."
Claire Williams, Deputy Team Principal added:
"This film is a tale of two great loves in my father's life. Everyone knows of Frank's pure passion for motor racing, but not everyone knows the remarkable story of my parents' marriage and how those two things co-existed during the highs and lows of the team's journey. I am pleased that it shines a light on exactly how instrumental my mother was in the team's success while also capturing the setbacks and her bravery in holding the family, and ultimately the business together, as the team went on to make history."
"We are incredibly proud of the film and its enduring message of what the human spirit is capable of achieving in the face adversity. I hope that it inspires people as much as my parents' story inspires me. As my dad would want it though, we are proud of our past but ready for the future. The most exciting part is our plan to build on Frank's legacy and write a new chapter in our story – something we are building momentum towards."
The film features legendary racing footage, interviews with much-loved Formula One stars. Sir Patrick Head, Sir Jackie Stewart, Nigel Mansell and Nelson Piquet feature in the movie. It is an honest, authentic and incredibly revealing portrait of one of the most extraordinary stories in motorsport.
Curzon Artificial Eye is hosting the world premiere of Williams on Tuesday 11th July in the Curzon Mayfair. Representing Williams will be Claire Williams, Williams drivers past and present and two of the team's iconic Formula One cars.
Watch highlights of our weekend @FOSgoodwood celebrating 40 years of @WilliamsRacing in @F1 with the FW14B & FW08B #WeAreRacing #FOSgoodwood pic.twitter.com/u9NdoCUgtg

— WILLIAMS RACING (@WilliamsRacing) July 2, 2017