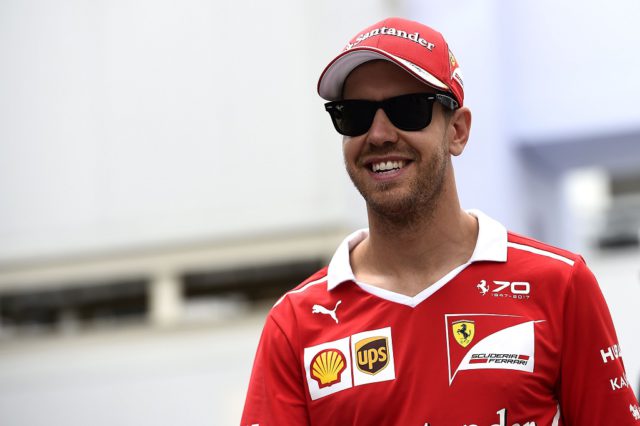 The FIA will take no further action towards Sebastian Vettel following his collision with Lewis Hamilton during the Azerbaijan Grand prix.
The federation issues the following statement:
"During the Azerbaijan Grand Prix, stewards officiating at the event issued a 10-second stop-and-go penalty to Sebastian Vettel, the most severe penalty immediately applicable before displaying a black flag notice to the driver. Sebastian Vettel also had three penalty points applied to his FIA Superlicence, taking his current total to nine.
However, while respecting the Stewards' decision, the FIA remained deeply concerned by the wider implications of the incident, firstly through the impact such behaviour may have on fans and young competitors worldwide and secondly due to the damage such behaviour may cause to the FIA's image and reputation of the sport.
Breaking News: No further action against Sebastian Vettel, regarding the Azerbaijan GP incident, following a sincere apology from Seb. pic.twitter.com/SARw59Xd6e

— Sebastian Vettel #5 (@sebvettelnews) July 3, 2017
Following detailed discussion and further examination of video and data evidence related to the incident, Sebastian Vettel admitted full responsibility.
Sebastian Vettel extended his sincere apologies to the FIA and the wider motor sport family. He additionally committed to devote personal time over the next 12 months to educational activities across a variety of FIA championships and events, including in the FIA Formula 2 Championship, the FIA Formula 3 European Championship, at an FIA Formula 4 Championship to be defined and at the FIA Stewards' seminar. Due to this incident, President Jean Todt instructed that no road safety activities should be endorsed by Sebastian Vettel until the end of this year.
The FIA notes this commitment, the personal apology made by Sebastian Vettel and his pledge to make that apology public.
In light of these developments, FIA President Jean Todt decided that on this occasion the matter should be closed."
The conclusion was that in any case of such behaviour, the matter would immediately go to the International Tribunal.
Commenting on the outcome of today's meeting, FIA President Jean Todt said:
"Top level sport is an intense environment in which tempers can flare. However, it is the role of top sportsmen to deal with that pressure calmly and to conduct themselves in a manner that not only respects the regulations of the sport but which befits the elevated status they enjoy.
"Sportsmen must be cognisant of the impact their behaviour can have on those who look up to them. They are heroes and role models and to millions of fans worldwide and must conduct themselves accordingly."
Today is Vettel's 30th birthday.
30 years old today – Happy Birthday, Sebastian Vettel ???

Here he is after his first win at the 2008 #ItalianGP#F1 pic.twitter.com/qVnmKcoDGt

— Formula 1 (@F1) July 3, 2017
Sebastian Vettel issues personal apology and admits 'full responsibility' over Baku collision@FIA to take no further action #F1 pic.twitter.com/70j06BucZW

— Formula 1 (@F1) July 3, 2017
Time to move on… to the #AustrianGP ??! #ForzaSeb ?☝️#AlwaysBelieveInSeb #Vettel #Seb5 pic.twitter.com/vpRpXXgxxT

— Sebastian Vettel #5 (@sebvettelnews) July 3, 2017
Vettel published a statement on his website. He explained his running to the back of Hamilton's car was due to surprise.
"With hindsight, I don't believe he had any bad intentions.
"In the heat of the action I then overreacted, and therefore I want to apologise to Lewis directly, as well as to all the people who were watching the race. I realize that I was not setting a good example."
"I had no intention at anytime to put Lewis in danger, but I understand that I caused a dangerous situation.
Vettel also apoligized to the FIA. He pointed out he accepts and respects the federation's decision as well as that of the stewards from Baku.
"I love this sport and I am determined to represent it in a way that can be an example for future generations", Vettel said.
Ferrari also made a statement. The team said it "notes the driver's apologies and his personal commitments to help the image of the sport." The Scuderia also confirmed its support to FIA's initiatives.
Good outcome. #F1 https://t.co/7K6L80KWn5

— Damon Hill (@HillF1) July 3, 2017