The Streif in Kitzbuühel is the steepest downhill race piste in the world. It is more accustomed to skiers travelling down it at break-neck speed. But former World Rallycross and DTM champion Mattias Ekström took the novel approach of driving up the virtually vertical slope. He was at the wheel of an Audi E-Tron technology demonstrator.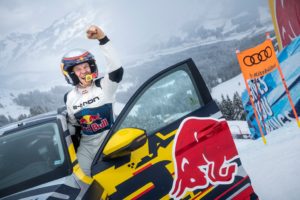 Ekström, 40, is no stranger to overcoming obstacles
In his career, he won the World Rallycross title back in 2016 to add to two previous DTM titles and a litany of Race of Champions wins.
The task was to drive up the steepest section of The Streif. The event took place only a few days after the annual World Cup downhill in Kitzbuhel. Ekström was in an Audi E-Tron technology demonstrator that moved solely on electric power.
The steepest part of The Streiff, called "Mausefalle" has an inclide of 85%.
19-inch wheels with spikes provided the grip to tear up the steepest section of The Streif. The name of that section is Mousetrap.
The car, which normally has a range of 400 kilometres on the roads, was a special design between Audi and Red Bull
It had echoes of the 1986 Audi advert in which rally driver Harald Demuth drove up a ski ramp at the wheel of an Audi 100 quattro.
Risk management for this project included several safety precautions. Such was a roll cage as well as a racing seat with a six-point harness. There was also a belay through which a safety cable ran. The safety system was specially developed for this test to avoid slipping through a lock mechanism. However, there was no pulling device and these protections did not affect the performance of the car and driver.
A skiier's ultimate challenge has been accepted by the Audi e-tron. Time to conquer the world famous ski slope "The Streif". https://t.co/wadY4yjRoz @redbull#etron #prototype #ElectricHasGoneAudi #Audi #redbull pic.twitter.com/8BJAjiqjIY

— Audi (@AudiOfficial) February 20, 2019