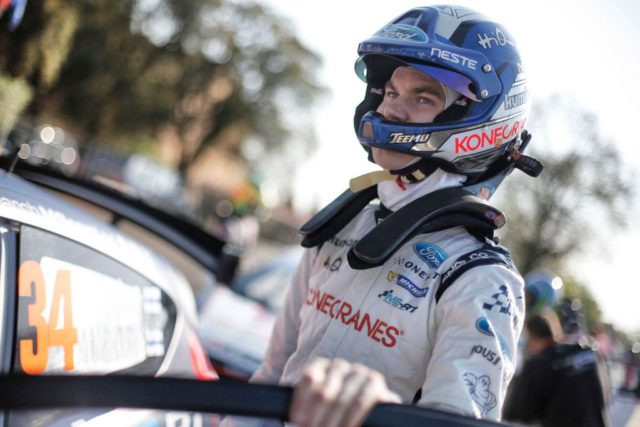 Teemu Suninen is one of rally's promising talents and will take the next step in his career when he gets behind the wheel of M-Sport's Ecoboost-powered Ford Fiesta WRC for Rally Poland.
The 23-year-old Finnish driver conducted a comprehensive two-day test at M-Sport's private testing facility last week. That gave him the opportunity to get to grips with the top-specification Fiesta in both wet and dry conditions.
Experienced Mikko Markkula will be Teemu's co-driver.
Using the fast Polish stages to acclimatise to the commitment required to excel at this level, Suninen will aim to gain experience before taking the wheel of the Fiesta WRC once again – on home soil in Finland at the end of next month.
Teemu Suninen said:
"I'll be taking the next step in my career, and it's a big step – my world rally car debut! The challenge from WRC 2 has been multiplied and I can't wait to get started. Rally Poland has always been kind to me, so it is great to start this part of my career there."
"Good preparation is really important. I don't ever expect a debut in a world rally car to be easy, but we have completed a two-day test with M-Sport to get used to the car and find our feet."
"I've not had the chance to test in Poland so I'll need to take all of my high-speed kilometres from the rally itself."
"Shakedown will give us our first experience of these fast stages, and then the plan will be to drive smoothly to the finish – gaining maximum experience before my next outing on home soil."
No Sardinia but Rally Poland is our next WRC event. My debut in a WRC car feels really exciting. Multiplied challenge from the WRC2 battles. pic.twitter.com/T7aP6Flfcf

— Teemu Suninen Racing (@TeemuSuninenRac) June 7, 2017
Malcolm Wilson added:
"I'm delighted to see Teemu behind the wheel of the Ford Fiesta WRC. He is an exceptional young talent with an incredibly bright future ahead of him. And it's fantastic to see him take this important step with the M-Sport team."
"Seeing how he and Mikko work, I have no doubt that they will make the most of Rally Poland. Teemu is eager to learn. I'm sure that his level of commitment and determination will hold him in good stead – both for the immediate future and beyond."
"I've been watching his development for a number of years now. And I'm looking forward to seeing what he can do at the next level – both in Poland and on home soil in Finland."