Yann Ehrlacher won an incident-packed Race 1 at WTCR Race of Netherlands as the WTCR – FIA World Touring Car Cup presented by OSCARO entertained a huge and enthusiastic crowd at Zandvoort this afternoon (Sunday).
The Frenchman took the lead at the start in his ALL-INKL.COM Münnich Motorsport Honda Civic Type R TCR, then held off an inspired Aurélien Comte (DG Sport Compétition Peugeot 308TCR) in a race interrupted by a stoppage and a safety car period.
"It was still not perfect because it wasn't from pole position, but I am very happy," said a grinning Ehrlacher, who is now just 19 points behind his championship-leading uncle Yvan Muller. "The team has worked very hard to be on top. The car seems to be one of the best in the field right now."
WINNERS! @YannEhrlacher ?
P2. Aurelien Comte
P3. @Huffsport pic.twitter.com/PyoY5Kms8T

— FIA WTCR / Oscaro (@FIA_WTCR) May 20, 2018
A dramatic start allowed Ehrlacher to lead into the long Turn 1 right-hander, Tarzan
DHL pole starter Rob Huff found himself swamped by those around him and down in third place, behind Comte, who had surprised everyone ahead of him by scorching away from the line to rise from seventh on the grid to second.
"The hold was long on the lights," explained Huff. "Ultimately the clutch has got hot and started to slip, literally there was nothing I could do."
The drama continued at the Turn 3 Hugenholtz left-hander behind the paddock when Norbert Michelisz and WTCR points leader Yvan Muller clashed. The pair were running side by side through the turn, then ran off the road on the exit. Muller's YMR Hyundai i30 N TCR ended up straddling the steel barrier, to the Frenchman's fury. With both cars needing to be recovered, the race was at first neutralised under a safety car, then inevitably red flagged.
"It's a shame to break a car for 20th place," said Muller, who had started from a lowly P21. "Crazy. I don't know why he did it. I'm focused on the car and if it can be repaired for tomorrow."
Michelisz, who has received a 10-place grid penalty for Race 2, said: "We touched, my suspension broke and as a consequence, we went off. What he said is a matter between us. I don't want to say anything negative."
The race restarted behind the safety car on lap four
Ehrlacher led the way from Comte, Huff, Gordon Shedden's Audi and the Boutsen Ginion Racing Honda of Benjamin Lessennes. The 18-year-old Belgian jumped the start from fifth on the grid, and immediately following the restart was called in to serve a drive-through penalty. He would eventually be classified P19.
Safety car! Oops ? #WTCR pic.twitter.com/VyXUjS322L

— FIA WTCR / Oscaro (@FIA_WTCR) May 20, 2018
The top four were going together over the following laps until Ehrlacher managed to edge away at the front. Comte impressively held his own against experienced Britons Huff and Shedden, with Jean-Karl Vernay hovering just off the battle in P5.
The safety car went out on lap 11 after Fabrizio Giovanardi's Team Mulsanne Alfa Romeo Giulietta TCR got on the grass during his battle with Zengő Motorsport's Zsolt Zsabó. The Italian ended up smashing into the wall on the outside of Hugenholtz.
Once the car was cleared from the track, the race restarted again for a two-lap dash to the flag
Comte was close to Ehrlacher at the restart, but the leader held his nerve to once again edge away for a deserved victory.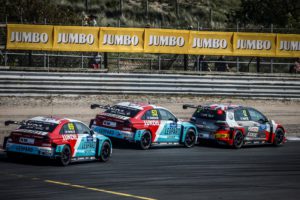 Comte was content with his best WTCR finish, with Huff completing the podium despite heavy pressure from Shedden. The British Touring Car Championship convert made a move on Huff's Sébastien Loeb Racing Volkswagen Golf GTI TCR on lap 10, braking late to slide inside his countryman at Tarzan. The pair made slight contact mid-corner, with Huff powering out back ahead to keep hold of his third place. Vernay followed his team-mate Shedden home, with just 2.440s separating the top five at the flag.
Esteban Guerrieri's ALL-INKL.COM Münnich Motorsport Honda finished sixth, ahead of local hero Tom Coronel who worked hard to hold off a long train of cars for his seventh-place points. The Dutchman reported chronic understeer in his Honda but used all his experience of his home circuit to thwart the pack behind him.
That was led by Mehdi Bennani's Golf, who finished ahead of the Audis of Nathanaël Berthon and Aurélien Panis with Denis Dupont P11 followed by James Thompson, Gianni Morbidelli, Thed Björk and John Filippi.
There was a further disappointment for early-season pacesetter Gabriele Tarquini
He once again failed to score after his disaster at WTCR Race of Germany last weekend. The Italian pulled his BRC Racing Team Hyundai into the pits on lap 9 while running a lowly P22.
Wildcard entry Prince Bernhard van Oranje was in the thick of the action at the start when his Bas Koeten Racing Audi jumped the lights from the back of the grid. After serving a drive-through penalty, he was classified in P21, one place behind team-mate Michael Verhagen.
Boooooom ?? We won Zandvoort ??! Such a great team effort, thanks to my boys ??#YE68 @allinklracing @hondaracingwtcr @FIA_WTCR pic.twitter.com/0peQU4M82J

— Yann Ehrlacher (@YannEhrlacher) May 20, 2018