It's a social event that features thousands of people, hunters' knives, open fires, fast-moving motor cars, sausages, and an axe or two. Basically an all-day party, in a snowy forest, in the middle of nowhere.
Maybe this needs explanation. Colin's Crest is an epic jump on the Vargasen stage of Rally Sweden. The most famous place of the most famous stage on the rally. And people go to extraordinary lengths to see it up close. Including strapping themselves to trees. But you don't have to do that. One of the other best ways to catch everything that happened at Colin's Crest is simply to watch Red Bull TV's report from there.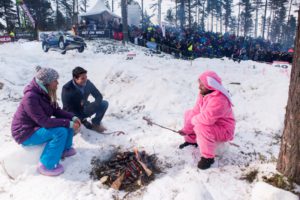 Presenter Mike Chen ventured out to meet some of the crazy Swedish fans – including the one dressed up as pink rabbit – in order to experience Rally Sweden's signature stage and sample its unique atmosphere.
Mike probably also sampled some unpronounceable local spirit made from fermented rye and potatoes, as well as consuming plenty of sausages: the staple diet of die-hard rally fans the world over. To cook them, the hillside next to Colin's Crest is lit up by fires, fuelled of course by wood: one thing that's always easily found in a forest. That's why many of the spectators bring an axe. They also carry knives to whittle spears and forks, which is what the sausages are skewered on prior to being eaten. Colin's Crest basically provides an opportunity for every rally fan to get in touch with their inner cave man. Which at least explains why one of them was dressed only in furs.
How fans watch and enjoy the most famous place of the most famous stage on Rally Sweden – Colin's Crest
Most of all though, Colin's Crest provides the amazing chance to watch rally cars fly through the air like they're about to launch into orbit. The jump is named after former world rally champion Colin McRae. Its record stands at 45 metres: set by Norway's Eyvind Brynildsen last year. This year, the record was almost (but not quite) broken by another Norwegian. Mads Ostberg jumped for 44 metres.
"I actually lost a bit of speed in the corner before the crest. Maybe I could have gone even faster," pointed out Mads afterwards.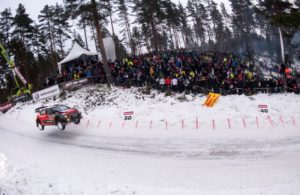 Mike Chen, who made plenty of new friends on the stage, with and without rabbit costumes – was blown away.
"Seeing those cars leap through the air: that's mad," he said. "Almost as mad as some of the people out there watching them."
Having said that, the rabbit costume actually looked quite warm. So maybe that's a sensible thing to wear when temperatures drop into the minus figures?
Here are the official results of Colin's Crest Award:
1. Østberg 44 meters
2. Brynildsen 42 meters
2. Veiby 42 meters pic.twitter.com/lBUWCOBuAw

— Rally Sweden (@RallySweden) 11 February 2017