Nico Rosberg of Mercedes took his 23rd Formula One career victory – his first at the Suzuka International Racing Course and ninth of the 2016 season so far. Lewis Hamilton had a slow start which dropped him to P8 on the first lap. He managed to clinch P3 at the flag. That was the 100th podium of his Formula One career.
The Mercedes-Benz Silver Arrows have now sealed a third consecutive Constructors' World Championship title with a 60th Formula One Grand Prix victory. Nico (313) leads the Drivers' Championship by 33 points from Lewis (280) in P2, with the battle for the Drivers' title now solely between the two Silver Arrows drivers.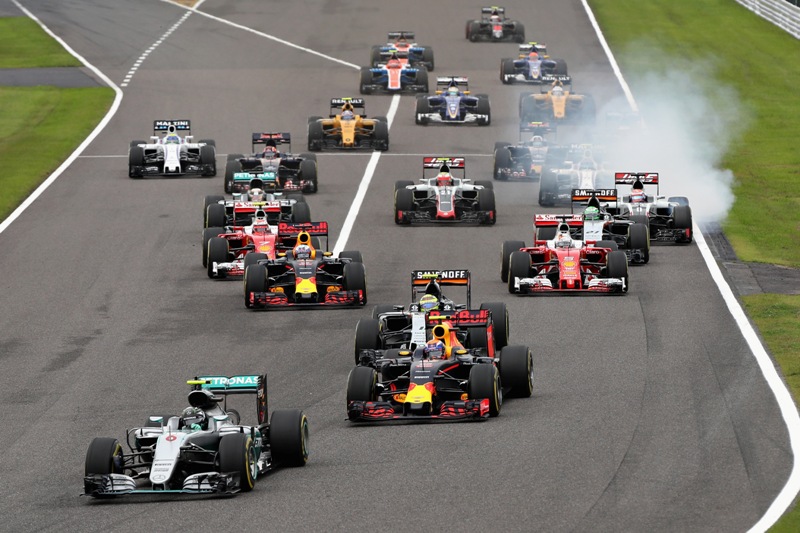 Nico Rosberg
What an awesome weekend! It felt great right from when the lights went green on Friday. I got a good rhythm in practice, had a strong Qualifying, a decent start and then from the lead I was able to control the pace in the race. I had to save my engine a bit as it was my last race in the cycle. But the gap was always safe.
I came here to win in Japan and I managed to do so, which is really special. It's a fantastic feeling to win at this legendary race track. Massive congratulations to all of my colleagues here in Japan, back at Brackley and Brixworth, and the hundreds of thousands of Daimler employees out there for the third Constructors' World Championship. A huge thank you to every single person and to every partner who made this possible. They are really the best! They deserve it so much after the unbelievable effort over these past few years, so let's celebrate hard! I might do a little bit of celebrating myself but not too much. The season is not over yet with a few races still to go around the world, so I need to keep my energy up!
Lewis Hamilton
Firstly, I'd like to say a huge congratulations to everyone back at the factories and the whole of Mercedes-Benz. Everyone has done a fantastic job and to have this success three years in a row is incredible. It's been an awesome effort from so many people over the last three years and that is the most important thing to take from today. We couldn't have done it without all of their support and I'm very, very proud to be a part of it.
Looking at the race itself, I'm not really quite sure what happened at the start. I'll have to see what the engineers say – but I got the worst getaway I could possibly get. My side wasn't completely dry and there was lots of wheel spin. But that wasn't the whole issue. I lost a lot of ground as everyone else gained traction moving away. It was frustrating, but that's the way it is. These things happen.
Then, in the first part of the race, I didn't have the pace of Kimi (Raikkonen), so knew I had to go longer and wasn't really trying to attack him in the first part of the race. The second half got a lot more interesting and I was able to pick up some serious pace on the hard tyre. The car was feeling better, I was feeling more comfortable and I was able to overtake people. We put a bit of front wing in and the understeer completely disappeared, so I was able to make my way through the field and close the gap. Unfortunately I wasn't able to take second but I did the best job I could out there today.
Every point counts, so I drove my heart out to get as many as possible. Nico did a great job today and he has a healthy margin now, so the Drivers' Championship has got harder for me. I'll give it everything I've got, as I did in the race today and always do.
Max Verstappen finished second
He defended himself from Hamilton's attempt to take his place. Later Mercedes lodged an official protest against him. Both drivers had left the circuit and the stewards delegated the case to their colleagues at the US Grand prix.
It turned out Hamilton did not know for the protest and did not approve of it. His team decided to withdraw it.
There is no protest from myself. Just heard the team had but I told them it is not what we do. We are champions, we move on. End of!

— Lewis Hamilton (@LewisHamilton) 9 October 2016
Max Verstappen
"We knew the start was going to be very decisive and we had a really good one today which allowed me to settle into my own rhythm. I'm pleased the starts are coming together, that's two in a row now. I was then able to sit behind Nico (Rosberg) and control my tyres.
The team gave me a really strong strategy, along with a car that felt very balanced so I was able to enjoy a successful race.  I was really happy to be able to get in-between the two Mercedes cars, it is a great result yet again for the team. In the race we had quick pace but I think Nico was still only cruising. When I sped up Nico could match it and if I slowed he did also, he was in control. Lewis (Hamilton) was obviously a bit quicker in the final stages and I knew he was going to catch me, the gap time on the pit board was dropping every lap. Into the last chicane I saw him coming in my mirrors so I defended my position, this allowed me to hang on for the second place.
PROVISIONAL CLASSIFICATION: ROS wins the #JapaneseGP, VES and HAM complete the podium! #F1 pic.twitter.com/eXS0FRdpf9

— Formula 1 (@F1) 9 October 2016