McLaren-Honda announced an innovative three-driver strategy for the 2017 and 2018 Formula 1 seasons.
World Champion and 15-time Grand Prix winner Jenson Button has signed a new contract. The Englisman is now contracted for two more years and will remain a key member of the team.
McLaren-Honda's race drivers for 2017 will be double World Champion Fernando Alonso and one of the most talented and exciting young driver in the sport today Stoffel Vandoorne.
McLaren-Honda's race driver line-up next season will be Fernando Alonso and Stoffel Vandoorne
"But, before I speak on either of them, I want to talk about Jenson", Ron Dennis said. "He's been superb, both on and off the track, for these past seven years. Fast and fit but also experienced and expert. He'll start his 298th Grand Prix tomorrow. That makes him the most experienced driver on the grid.
Having extended his contract to include 2017 and 2018, he'll continue to be a senior of the team. Jenson will remain centrally involved in the development of our cars while he'll also be available to race for us if circumstances require it."
For Fernando, 2017 will be his third year as a McLaren-Honda race driver
"I need hardly reaffirm his credentials here. So let me simply restate my belief that he's one of the finest and fastest Grand Prix drivers I've ever seen. We're very proud to have him in the team.
Stoffel has completed a meticulously designed apprenticeship and is ready to race in Formula 1."
Jenson Button is delighted to stay as a key member of the team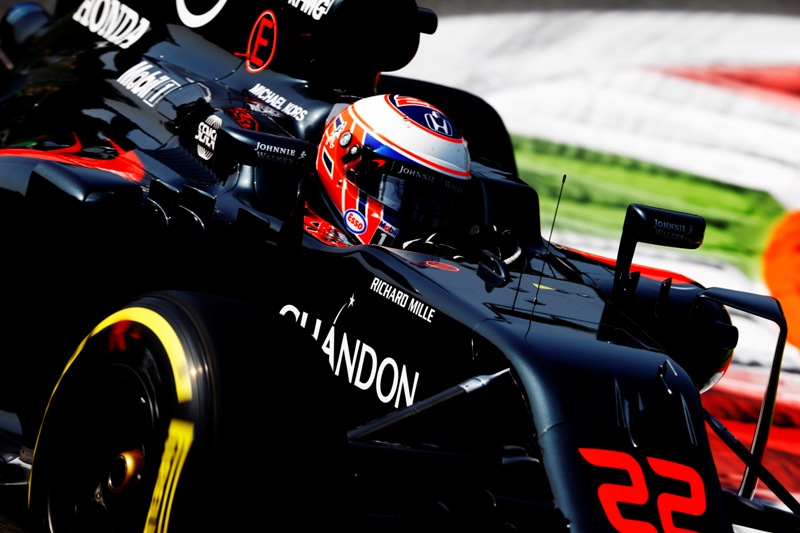 "In fact I'm massively excited about my new role", the 2009 F1 world champion added. "It has come about as a result of a number of in-depth chats with Ron.
To be clear, I am very definitely not retiring. I'm contracted for both 2017 and 2018 and intend to work hard on car-development. And I'm sure I'll get behind the wheel of the new car at some point."
Vandoorne thanked the team and Dennis
"I want to express my gratitude to everyone at McLaren-Honda, and especially Ron, for showing faith in me. I've signed loads of autographs in my career. But, when I inked my signature on my McLaren-Honda contract today, I had an exceptionally special feeling. It's an enormous honour to become a McLaren-Honda race driver and I already know the team extremely well. They're a fantastic group of extremely clever people and I have total confidence in the potential of the McLaren-Honda project."
Taking a break, NOT retiring, @JensonButton explains all…. pic.twitter.com/N1sLByyUqv

— Formula 1 (@F1) 3 September 2016
"It's been a long time coming" – @svandoorne will race for @McLarenF1 in 2017 pic.twitter.com/qgi8fRtLtU

— Formula 1 (@F1) 3 September 2016
What a great moment! Ron & I signing my @McLarenF1 contract earlier today. #TheFutureStartsHere #McLarenHonda pic.twitter.com/pvbmUEIZWU

— Stoffel Vandoorne (@svandoorne) 3 September 2016