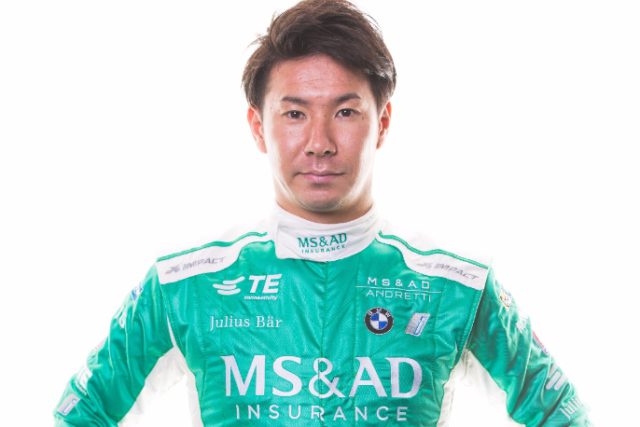 Kamui Kobayashi will make his electric street racing debut with MS&AD Andretti Formula E at the Season Four opener in Hong Kong on December 2 and 3. Kobayashi will pilot the No. 27 MS&AD Andretti ATEC-003 car in both races of the doubleheader on the streets of Hong Kong, looking to help MS&AD Andretti Formula E make a strong start to the season.
"We are very fortunate to have a driver of Kobayashi's calibre in the No. 27 MS&AD Andretti car to start the season in Hong Kong," said Andretti Formula E CEO Michael Andretti
"He has shown what he can do in both Formula One and WEC, making Formula E a perfect next step. To partner one of the largest companies in Japan, MS&AD Insurance, with one of the most popular Japanese racing drivers, will be exciting to see. The passion that Japanese fans have is incredible. And we expect to see that when he makes his debut in Hong Kong."
The Japanese racing driver currently competes in the FIA World Endurance Championship and the Super Formula Championship but has competed in all forms of motor racing including Formula One, where he made 76 starts over the course of four seasons. This will be Kobayashi's first race in Formula E championship.
Commenting on his appointment to the MS&AD Andretti Team, Kamui Kobayashi said:
"First of all, I would like to thank Michael, the whole Andretti Formula E team and MS&AD insurance for giving me this wonderful opportunity to race at the Hong Kong ePrix. Andretti is one of the world most popular racing families. And I am so excited to have my Formula E debut race under his name. I will be going to the race weekend without testing which is not an easy thing, to be honest. But the team has been giving me all the support. So no worrying at all and I am really looking forward to having good races there."
The exciting pairing will connect Kobayashi with Japanese insurance giant MS&AD, one of the world's ten biggest non-life insurers. One of Japan's oldest companies, MS&AD is excited to bring a Japanese driver into the series and engage with a growing Japanese fan-base, a top three audience for Formula E.
Adrian Britten, Director of Brand & Communications for MS Amlin, the London-based international arm of Japanese global insurer MS&AD, said:
"We are delighted that Kamui Kobayashi has joined the MS&AD Andretti team and are looking forward to real excitement on the track. The welcome return of a Japanese driver to the Formula E grid will hopefully encourage a future Formula E race in Japan."
Kobayashi will team up with experienced Formula E driver Antonio Felix da Costa to complete the MS&AD Andretti lineup.
The 31-year-old Kamui Kobayashi began his motorsport career in 1996
In 2004 he signed for Toyota's Driver Academy and soon began his career in open-wheel racing. His next step was Formula Renault, entering the Asian, German, Italian and Dutch championships. In 2006, Kobayashi entered the Formula 3 Euro Series alongside Paul di Resta, Giedo van der Garde and Sebastian Vettel. Kobayashi became one of the Toyota Formula One team's test drivers together with Kohei Hirate in 2007.
From 2008 Kobayashi was in GP2, while in 2009 made his F1 debut, replacing the injured Timo Glock in the Brazilian Grand prix. In 2010 he became a regular driver of the Sauber F1 team, where he remained until 2012. After a year out of Grand prix, Kobayashi returned with Caterham in 2014. Since 2016 he is a part of the Toyota WEC team.