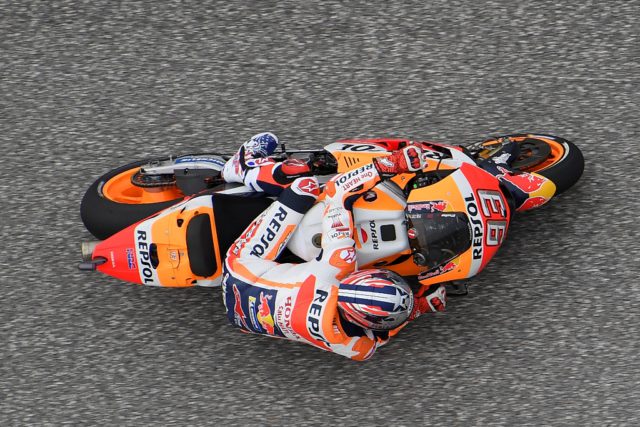 Marc Marquez took the pole position for the Americas GP from the MotoGP championship.
The King of COTA strikes again ?@marcmarquez93 was untouchable on the way to his 6th successive #AmericasGP pole pic.twitter.com/kwOalzeP0A

— MotoGP™??? (@MotoGP) April 21, 2018
Not even this crash in qualifying could halt @marcmarquez93 in his charge for yet another #AmericasGP ???#SurfingUSA ??#MotoGP | VIDEO ? https://t.co/v8VBm6rhB6 pic.twitter.com/aWTAOca6Bw

— MotoGP™??? (@MotoGP) April 21, 2018
Here's the incident that is under investigation ⚠️@maverickmack25 and @marcmarquez93 have a disagreement in qualifying #MotoGP | VIDEO ? https://t.co/diLYHbdAjk pic.twitter.com/KVbFyb9Ouy

— MotoGP™??? (@MotoGP) April 21, 2018
Marquez took his sixth pole out of six GPs held at the Circuit of the Americas, and his first this season
But tomorrow he will start from fourth place on the grid after being sanctioned and given a three-place grid penalty.
A turn 13 crash from his second flying lap forced Marquez to rush back to the pit and jump on his second bike to defend his provisional pole. He managed that but didn't realize that Maverick Vinales was coming fast behind him and found himself in the way. This was the reason for the penalty.
"Basically, today was good for us, as we were the fastest in qualifying and, most importantly, were able to keep a good race pace in FP3 and FP4. Of course, qualifying was a bit hectic. I crashed and had to take my second bike for the second run. I went out. And unfortunately, I didn't expect Maverick to arrive behind me because I was focused on Andrea (Iannone), who was waiting ahead and who I knew could be very fast."
"I apologized to Maverick. But I didn't realize he was behind me until I heard his engine. So tomorrow I'll start from fourth. It will be important to choose the right tyre; we've worked a lot on used tyres and I was able to be consistent during the practices, but this track is quite physically demanding and tomorrow the temperature should be higher, so we'll see. We'll try and remain fully concentrated", he said.
Later he got a penalty for the Vinales infringement.
⚠️ BREAKING NEWS#MotoGP FIM Stewards: @marcmarquez93 has been given a three place grid penalty for slow riding on the racing line and disturbing another rider

He will start from 4th on the grid for tomorrow's #AmericasGP pic.twitter.com/QzwoT7EagN

— MotoGP™??? (@MotoGP) April 21, 2018