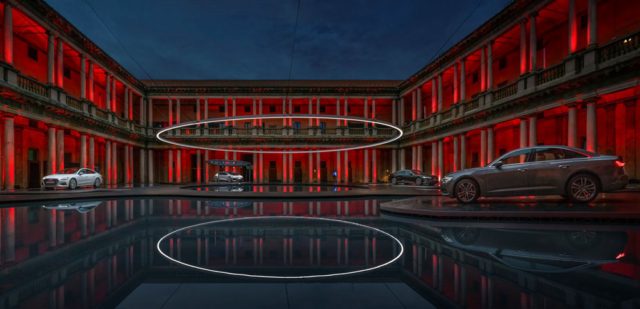 Audi presents the exclusive installation "Fifth Ring" at this year's Milan Design Week. The renowned architectural office MAD Architects developed the spatial installation around two automotive highlights. The first is the Audi Aicon design vision. The other one, meanwhile, is the Audi A6 Sedan. Both of them will make their Italian debut at the international design fair.
"Fifth Ring" is a spatial installation of a ring and symbolizes progress and evolution. MAD Architects and Audi combine the philosophical approach of the fifth element with the Audi Aicon. And this is a combination with a mobility concept for tomorrow's world. Besides the concept car, the focus is on the new Audi A6 Sedan. The Audi A7 Sportback and the Audi A8 are further elements of the installation.
Audi presents the exclusive installation "Fifth Ring" at Milan Design Week
"The illuminated ring in the square boundary of the historical courtyard stands for mankind's strive for perfection," describes Ma Yansong, the founder of MAD Architects, the staging. "It floats above a water basin and reflects the constantly changing sky. It gives the viewer the feeling of walking in the clouds." Fabrizio Longo, Brand Manager of Audi Italy adds: "This search for perfection is the force for innovation and the drive that makes Audi cars so special."
MAD Architects is an international architectural firm developing futuristic, organic and technologically advanced designs. The artists attach particular importance to a contemporary interpretation of the Eastern affinity to nature. Among their latest recognitions are winner of the Housing Category in ArchDaily's "Building of the Year" Awards 2018 as well as winner of the Spaces, Places & Cities category in Fast Company's Innovation by Design Awards 2017.
The Milan Design Week is a leading design event focusing on the Fuorisalone and the Salone del Mobile. With more than 300,000 expected visitors from around 165 countries, it will take place in Milan from 17 to 22 April 2018.