Teemu Suninen was born into racing. Not rallying. With Kimi Raikkonen as his hero, he was set on emulating Finland's last Formula 1 world champion. Then he ran out of money.
Putting his multiple karting trophies aside, he entered a competition to find a rally driver, won it and hasn't looked back since.
At Rally de Portugal, the quiet Finn stood on the FIA World Rally Championship podium for the first time. And he did so after a drive that was as breathtaking as it was brilliant.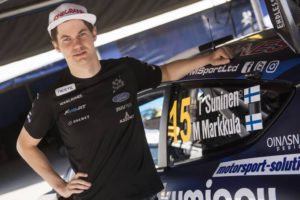 Aged 13, and having just watched his hero Raikkonen lift his world title, Suninen stepped aboard a kart and demonstrated massive natural ability
That ability had him finishing third in the European Championship just three years later. Suninen won races and titles from home to Las Vegas, but ultimately the F1 dream was a step too far financially. However, he said: "One of the things I was best at in the kart was driving in the wet. I was always very comfortable with the kart sliding around."
The perfect solution for a circuit racer who likes exploring the outer limits of the friction circle? Rallycross. Suninen went there in 2012. A year on and he realised the appeal of what's become something of a national obsession in his homeland.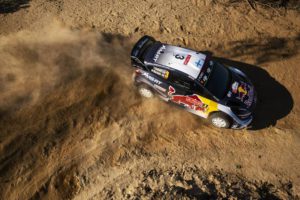 He took a rally car between the trees for the first time and discovered he was quite good at it
More than that. In 2014 he's deemed the brightest young talent in Finland and handed the keys to a DS3 R3T for his home round of the World Rally Championship.
It's no big deal, on his WRC debut, the then 20-year-old Suninen was thrown in among world rallying's brightest young things. Had he been eligible, he would have trounced the opposition in the highly rated Junior WRC category. And this was Suninen's 15th ever rally.
Fast forward three years and, understandably, he's been picked up by a professional team and starts Rally Finland in a top-line factory-run Ford Fiesta WRC. In just three seasons he's gone from complete beginner to team-mate to World Rally Champion Sébastien Ogier.
Finns are a fairly understated bunch. But Suninen takes that a step further. Sitting down next to Ogier, winner of the last five WRC titles, he said: "It's quite good to be on the same team as Ogier."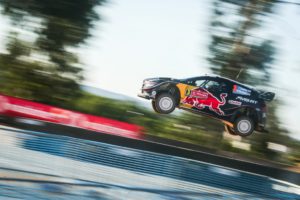 Quite good? Last year Ogier crashed out of Rally Finland and Suninen was fourth overall
"That was one of the most incredible drives I've seen," said M-Sport WRT boss Malcolm Wilson last year. "The way he drove this car and flew those jumps, you can tell that guy's a Finn."
And in Portugal, he went one better. Under massive pressure to bring points home for the M-Sport Ford squad, Suninen delivered the drive of his life to score a first ever podium with third place in Porto.
"It's good," the Tuusula native said. See, understated. "But, I am still learning. I have done this rally in Portugal a few times before and that experience gave me some more confidence to push in the car. It was a big fight and it's nice to be here now on the podium."
Next for Suninen is Rally Italia Sardegna and then the big one, Neste Rally Finland. And, just a handful of years since he was sliding a kart around the place, he starts the biggest motorsport event in all of Finland ready to be a nation's new hero. He's 24. And Raikkonen's still his idol.
Three days since but it still feels really good. My first podium in the WRC has now been reached. Time to aim higher… pic.twitter.com/5aWx6qfwSP

— Teemu Suninen Racing (@TeemuSuninenRac) May 23, 2018