The 2018 Dakar Rally organisers ASO unveiled a punishing route for the rally raid elite to tackle when the race returns to South America from January 6-20.
The car, bike, truck, quad and UTV competitors will have to navigate their way across 10,000km. And they are on the world's most hostile motorsport terrain.
The 40th anniversary edition of the world's most iconic rally raid race returns to South America for the 10th time including a trip to Peru after a five-year absence
In 2012, the @dakar finished in Lima after going through Arequipa, Nasca and Pisco. Hundreds of followers gathered at the Main Square to welcome the drivers in the Peruvian capital. #DakarPeru2018 #Dakar2018
Credits: Lugares Turísticos (Blog), @Agencia_Andina, @argentina_moto pic.twitter.com/JUJ2iC2Adu

— Perú (@peru) November 26, 2017
Former champions Stéphane Peterhansel, Nasser Al-Attiyah, Sam Sunderland, Toby Price and Eduard Nikolaev will need to draw on all their experience to get through the opening six stages leaving from Lima.
"The race starts in Peru which has challenging desert sections with big dunes. This race is going to be a serious battle from the first day onwards without any warm-up", current truck champion Nikolaev revealed.
Anyone expecting it to get easier once the race crosses into Bolivia for three stages will be denied relief. The extreme altitude and dramatic weather changes test everyone to the limit. The La Paz rest day will give the field a much-needed chance to regroup.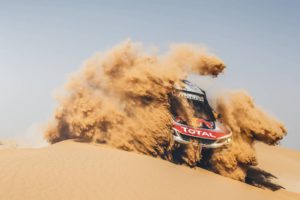 "Once again I can see the days we spend at high altitude being the key to this race. We have four or five days at extreme altitude and this is never easy to manage", 13-time Dakar winner Peterhansel explained.
Argentina provides the backdrop for the final stretch as the draining heat and perilous terrain test the remaining competitors heading into the Cordoba finish
Red Bull KTM Factory Team rider Price said: "Even though we've seen the route you still never really know what the Dakar can throw at you until you're out there racing."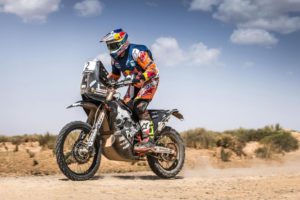 "It's a big honour for me to be going in with the #1 plate on my bike. And this also puts some weight on my shoulders. I'll be doing my best to keep a cool head and take each day as it comes", reigning bike champion Sunderland claimed.
Finally, two-time car winner Nasser Al-Attiyah added: "This will not be an easy race for anyone. But we are determined to enjoy ourselves and also try and go for the win."
2018 Dakar Rally route: The big numbers
– 7 stages will be 100 percent dunes/off-piste
– 1 marathon stage for all categories
– 1 extra marathon stage exclusively for bikes and quads
– Over 4,500km of timed special stage
-Nearly 4,500km of liaison sections
-5 days at an altitude of more than 3,000 metres above sea level.
Everything looks ready for the adventure #Dakar2018! ????
???? ➡️ ⛴⛴⛴⛴ pic.twitter.com/G7OkCqx3Ia

— DAKAR RALLY (@dakar) November 24, 2017