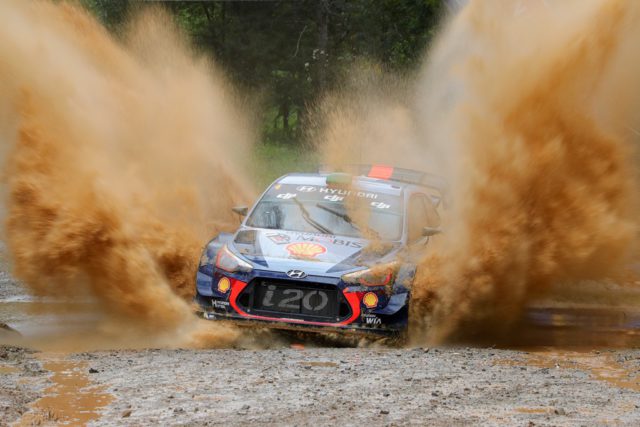 Hyundai's Hayden Paddon and Seb Marshall will participate in Rally Estonia, the organisers announced. The event will take place in July (13th to 15th).
This will be the first time for a Hyundai i20 Coupe WRC car to compete in the Baltics. The same goes for Paddon while his current co-driver Marshall participated in Rally Estonia in 2011. The event is a good preparation for Rally Finland both for the crew and Hyundai Motorsport.
"We are very happy to participate in Rally Estonia this year with Hayden and Seb", team manager Alain Penasse said.
"We saw in the past other teams competing in the rally as a pre-event test for Rally Finland and it seemed to work quite well. So this year we decided to follow this good example and join with one of our WRC cars. The roads in Estonia are fast and flowing and I'm sure this is the ideal event to prepare for our WRC outing in Finland a couple of weeks later. The spectators there are also very passionate and huge rally fans so it will be great to give them some entertainment – I'm sure they will enjoy watching our WRC car in action!"
"I'm really looking forward to Rally Estonia in July. I've always followed it closely in the previous years and have really liked the looks of the fast flowing roads – which are my favourite type. It will also be a great preparation for Rally Finland and we will use this opportunity as a test session in competitive conditions. It will be also great to bring our WRC car to Rally Estonia on what will be a very fast rally and I'm sure the spectators will enjoy seeing us in action there", Paddon added.
Hyundai's Hayden Paddon and Seb Marshall will participate in Rally Estonia, the organisers announced
Former WRC driver Urmo Aava is now director of the Estonian rally. He is also sure that the event will be really useful as a preparation for Finland.
"I'm sure Hayden and Seb will enjoy Estonian fast stages. And the fans are delighted to see Hyundai i20 Coupe WRC for the first time in action in the Baltics", Aava commented.
Shell Helix Rally Estonia 2018 will take place on the roads of Tartu, Otepää and South Estonia. Tartu is the entertainment centre of the rally. The service area is in Otepää at Tehvandi Sports Centre and the special stages will be in South Estonia.
Really looking forward to competing at the @Shell Helix @RallyEstonia in July! Will be perfect prep for Rally Finland and more valuable time in the car for @sebmarshall and I #paddonspack https://t.co/Ei45hoP1CR

— Hayden Paddon (@HaydenPaddon) February 7, 2018