Kevin Magnussen made his first career Formula One start in the 2014 Australian Grand Prix. It was a stout performance as he started fourth and finished second. The 18 points Magnussen earned for that runner-up effort put him in the Formula One record book for the most points scored in a debut. And unless a new driver wins in his first race, it's a feat that won't be beat. (Next best is Felipe Nasr, who scored 10 points in his debut via a fifth-place finish in the 2015 Australian Grand Prix.)
With his second-place finish, Magnussen joined an exclusive group of drivers who claimed a podium in their Formula One debut. Jacques Villeneuve did it in 1996 (second) and Hamilton did it in 2007 (third). Both accomplished the feat in the Australian Grand Prix. Villeneuve went on to win the Formula One title in 1997 and Hamilton is now a five-time champion (2008, 2014, 2015, 2017 and 2018).
Haas tested at Circuit de Barcelona – Catalunya for eight days over a 12-day span. How did it go and how did it prepare you for Australia?
"I think it went well. You always want more, and you always wish you could do more kilometres. At the end of the day, what's important is you make progress and put a car on track that feels good and feels like it has potential. We had that. I went out on track and immediately felt happy in the car. Yes, we had a few too many issues which stopped us from running but, at the end of the day, that's what testing is for."
My dear friend Jesper Carlsen was hit with a bad case of jet lag in the middle of his gym session this afternoon in Australia ?? pic.twitter.com/9pPImJ7zcd

— Kevin Magnussen (@KevinMagnussen) March 11, 2019
Did testing provide a glimpse of where Haas stacks up to the competition, or will it only be known after a handful of races?
"Of course, you get an idea of where you stand, whether you're completely off or whether you might have a good chance. You never completely know where you are until you hit the track in qualifying in Australia. Even then, a lot of things can happen in the coming races. We have a good feeling. We're happy we're going into the first race with the car that we have."
How would you describe the VF-19, especially in comparison to last year's car?
"I think we all expected that the cars would be slower, at least to begin with. We got to Barcelona and saw that everyone was going faster than last year. So, of course, I felt more grip in the car but, even more importantly, I think balance-wise it wasn't too different, and if anything, it was stronger in a few areas. I'm looking forward to seeing what it can do compared to the other teams."
The new rules package essentially consists of simplified front and rear wings and less intricate, repositioned bargeboards – all of which were done to minimize a car's aero wake and promote passing. After two weeks of testing, do you feel we'll see more passing this season and, specifically, more passing in the Australian Grand Prix?
"Yes, I followed a few cars on track in Barcelona testing. For me, there is a difference. It's hard to say, though, as in testing everyone's on different fuel loads and tires. The cars that I followed, I was either a lot slower or a lot faster. Therefore, it makes it difficult to say if it was easier or harder to pass. Just feeling the car behind these other cars, I felt like I had a lot more stability, and not as much instability as we had with the older cars. I have a feeling we'll see an improvement in the ability to follow, but whether the quality of the races is going to be better for that reason, that's a different question. We'll see about that."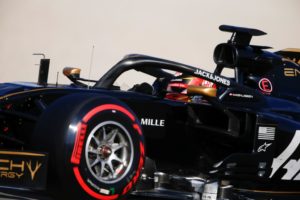 Haas had a remarkable debut in the 2016 Australian Grand Prix. And in 2014, you also had a remarkable Formula One debut at Australia, starting fourth and finishing second to Nico Rosberg. How were you able to achieve such a strong result in your first Formula One race?
"I think I just went into it with a smile, I enjoyed it. I didn't really think too much about the race, I had nothing to lose. Just went for it. I drove at my best, had a bit of luck as well, and I ended up on the podium. It was a great experience and a memory I will have forever. It's always going to be quite cool to say that I finished second in my first Formula One race, although it would have been nice to win. I'll do that another time."
What is your favourite part of the Melbourne Grand Prix Circuit?
"I'd say turn 11 – the chicane – because it's fast."