While the latest generation of spectacular WRC cars will be wowing the huge crowds as they race through the legendary Welsh forests at unsurpassed speeds, next month's Dayinsure Wales Rally GB (4-7 October) isn't just for the title-chasing big guns. Unlike most other major sporting series, the FIA World Rally Championship allows plucky private entrants to compete alongside their more illustrious peers. Few fit the 'plucky privateer' tag better than Hereford's Bob Beales in his 'Bertie' Beetle. Manufactured back in 1958, the ever-popular VW Bug is celebrating its 60th birthday by contesting the WRGB National Rally which shadows the main WRC event.
Living up to its Colorado beetle inspired orange and black livery, Bertie has a notably colourful history. In its early life, the venerable icon belonged to a Hereford taxi company, which somehow managed to roll it!
The car was then rally-prepared by the legendary Bill Bengry in the early sixties before Beales acquired it a few years later. Bob competed extensively in rallies, autotests and even autocross before putting the charismatic air-cooled car into storage.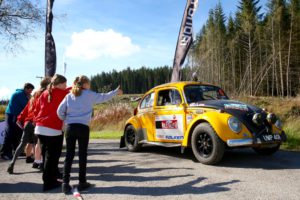 In recent years, though, Bertie has enjoyed a new lease of life
It competes in many historic events. Now the car is gearing up for a fourth consecutive start alongside the world's rally elite in Wales.
"We won our class in 2015 and 2016 but sadly were forced to retire from a big class lead last year when a gearchange coupling snapped. That big disappointment means we are really looking forward to making amends next month," vows the big-hearted Beales who is hoping to mark his Beetle's big milestone birthday in style.
"Bertie was 60 a few months ago and it's going to be a wonderful way to celebrate in Wales. This is the highlight on the UK rallying calendar and it's great to be on the same event as all those world championship cars and drivers."
That said, Beales admits it's not all plain sailing out on the speed tests in the stunning Welsh forests
"Being at the back, the gravel stages can be a bit rough after all those four-wheel-drive cars have been ripping up the tracks… but we cope!" he grins.
"We are now busy changing all the trackrod ends and spanner checking all the nuts and bolts to make sure they are all okay for rigours ahead. I'd like to get some new bits for the rear suspension but it's money and, even though we do have a number of very kind sponsors who help with some of the bills, being a pensioner, it's difficult to fund everything."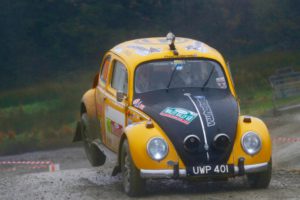 Indeed, the ever-enthusiastic Beales turns 70 in January and has been in motorsport for most of his life
He started rallying aged just 17 and, even before that, helped with marshalling on events. Now he and Bertie are becoming fans' favourites on the illustrious World Championship stage.
"We do put a lot of smiles on faces," confirms Beales. "I do try to give all those waving in the crowds a toot but only when I have enough hands available to hit the horn button!"
Full information can be found on the official www.walesrallygb.com website and via the event's social media channels.
The Great Orme has plenty of history in the @OfficialWRC.In 2011, it provided an early bath for Sébastien Ogier and Julien Ingrassia.

The Great Orme Llandudno stage is FOC but Rally Xtra & Grandstand will provide best seats in the house https://t.co/FR6UCpbSCM now!#WRGB #WRC pic.twitter.com/uGxfVOixu7

— Wales Rally GB (@WalesRallyGB) September 7, 2018