The Australian Grand prix season-opener takes place on a street circuit at Albert Park, but a slightly unusual one. Rather than being stop-and-go in nature like Monaco or Singapore, the track has a more flowing rhythm that also takes in some reasonably quick corners. Pirelli has nominated the C2, C3 and C4 compounds as the hard, medium and soft choices respectively under this year's simpler new tyre rules, with only three colours – white, yellow and red – at each grand prix.
Total number of race laps: 58
Complete race distance: 307.574 kilometres (191.118 miles)
Pit lane speed limit: 60 kph (37 mph)
This 5.303-kilometre (3.295-mile), 16-turn Melbourne Grand Prix Circuit has hosted Formula One since 1996, with last year's Australian Grand Prix serving as the venue's 23rd grand prix. However, this is the 35th Australian Grand Prix, with the inaugural Formula One race taking place in 1985 on the Adelaide Street Circuit, which was won by Keke Rosberg, father of 2016 Formula One champion Nico Rosberg.
For the history makers, the late brakers, the risk takers, the limit breakers.

21 races. 1 goal.

The Race Is On.#AusGP #Neeeum #F1isBack pic.twitter.com/9KW0weu8Ef

— Formula 1 (@F1) March 11, 2019
Michael Schumacher holds the race lap record at Melbourne Grand Prix Circuit (1:24.125), set in 2004 with Scuderia Ferrari
Lewis Hamilton holds the qualifying lap record at Melbourne Grand Prix Circuit (1:21.164), set last year with Mercedes in Q3.
The Melbourne Grand Prix Circuit comprises public roads encircling Albert Park Lake, a man-made body of water just south of Melbourne's central business district. The roads were rebuilt prior to Formula One's debut at the track in 1996, but because the surface only sees racecars about once a year, grip is hard to come by, especially in the initial practice sessions. It's a street circuit that behaves more like a natural road course.
DYK? Albert Park hosted races in the 1950s on a 5.03-kilometre (3.125-mile) configuration of the current circuit. During this time, however, the race ran in an anti-clockwise direction, as opposed to the current clockwise direction of the track's layout.
The tyres for the first round
P Zero White hard – less grip, less wear (used for long-race stints). The C2 version will be used. It has a working range between 110-135 degrees Celsius (230-275 degrees Fahrenheit)
Yellow medium – more grip, medium wear (used for shorter-race stints and for initial portion of qualifying). The C3 version will be in use. It has a working range between 105-135 degrees Celsius (221-275 degrees Fahrenheit)
Red soft – highest amount of grip, highest amount of wear (used for qualifying and select race situations). The C4 version will be in use. It has a working range between 90-120 degrees Celsius (194-248 degrees Fahrenheit)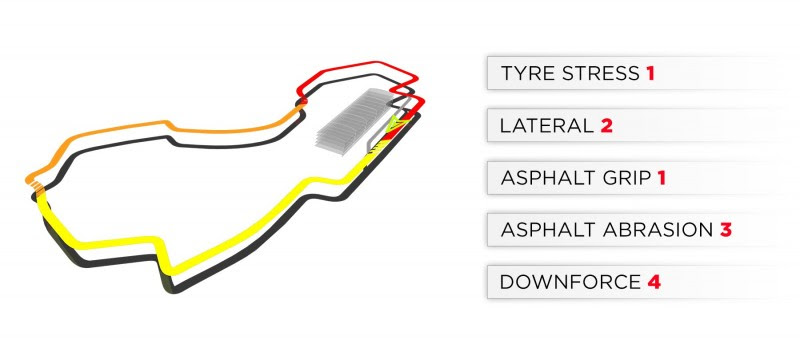 Being a street circuit, the track is particularly green and slippery at the start of the weekend, with bumps adding to the lack of grip.
There aren't that many long corners, which means that it's not always easy to bring tyres up to temperature.
A one-stop strategy was the winning choice last year – used by the majority of drivers – and although we need to see degradation rates from free practice, this is likely to be the case again.
There's a high likelihood of a safety car in Melbourne, which affects strategy: one of the reasons why pole position isn't as crucial in Australia as it can be at other races. The pole position driver has only won once in the last five years…
Weather is often a mixed bag, helping to make Melbourne one of the more unpredictable races of the year. Forecasts so far suggest it will be cloudy but dry.
Good traction is key to a quick time, in order to get a good drive out of the corners onto the many short straights that characterise the track.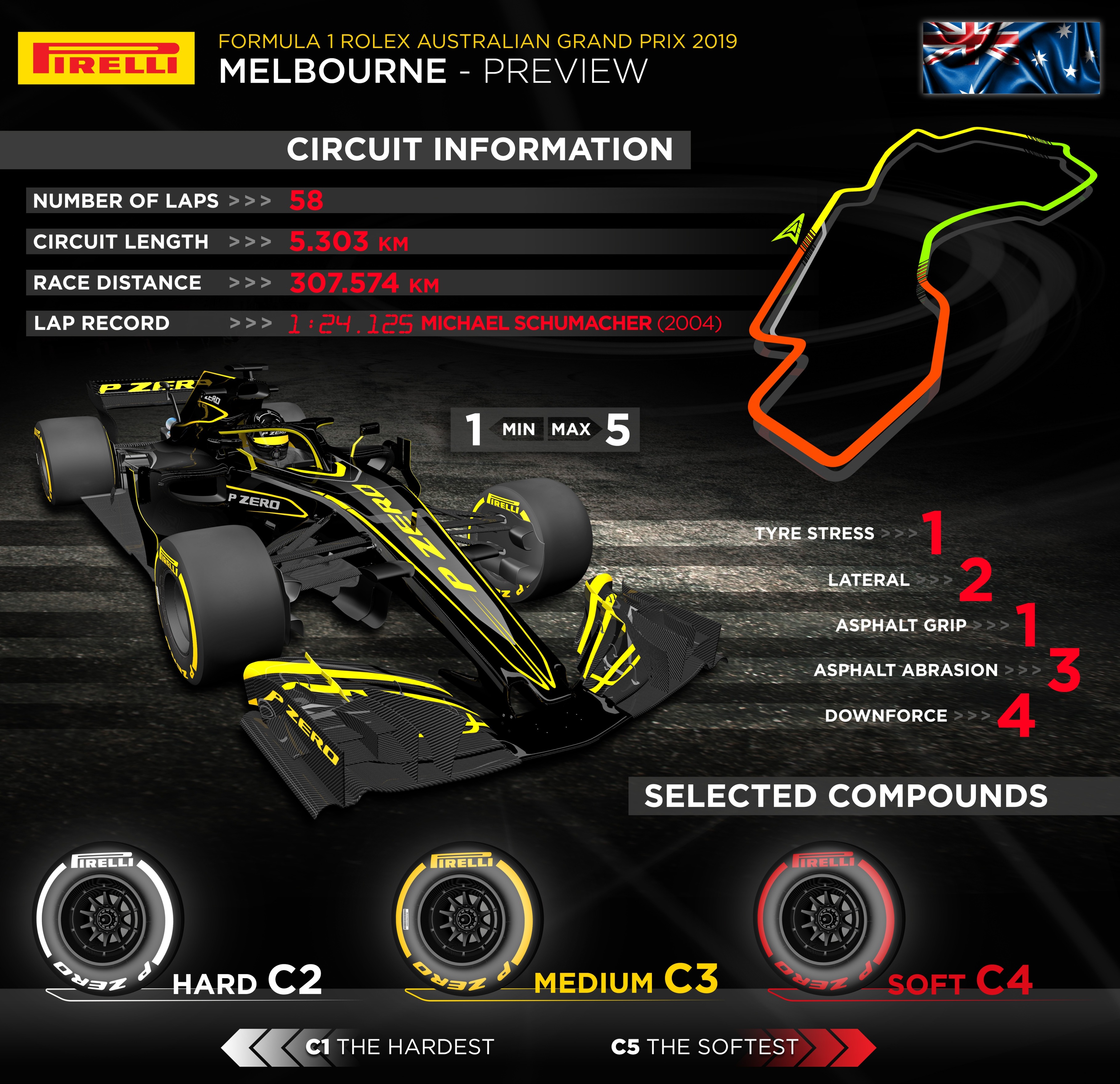 Mario Isola, Head of Pirelli F1 and car racing
"Our C2, C3, and C4 hard, medium and soft nominations this year are roughly equivalent to the 2018 medium, soft and ultrasoft compounds. This should allow drivers to push hard from the start to the finish of each stint. After a very productive test in Barcelona, we feel satisfied that the 2019 tyre range is on course to meet our objectives of combining performance with durability. Of course, there are still a number of aspects – such as degradation over the length of a stint – that will only be revealed after free practice in Australia. One other important consideration in Australia will be seeing how the new aero rules work, and if this leads to more overtaking – which is difficult to establish during testing."
It's ?
Race ??
Week ???#F1 #AusGP pic.twitter.com/XQ15NFw2fj

— Formula 1 (@F1) March 11, 2019