Daniel Ricciardo joins Renault F1 Team with a successful Formula 1 career to date, which includes no less than seven wins, 29 podiums and three pole positions. His journey to Formula 1 included four years of racing under Renault power across the junior categories in the Formula Renault 2.0 Championship, World Series by Renault and Formula Renault 3.5, before making the step up to Formula 1 midway through the 2011 championship.
How excited are you to get behind the wheel of the Renault R.S.19?
It's always exciting to get behind the wheel of a new race car and begin a new season. 2019 will feel different because I'm jumping into a totally new car and a new team. There will be a lot to learn; understanding a new steering wheel, sitting in a new seat with new mechanics strapping me in and a new engineer talking to me, but that whole process is an exciting prospect. Obviously, I'd love for the R.S.19 to be the fastest car on the grid, but for now, I want to see progress on the engine from last season and ensure the team remain motivated.
What, in particular, will you bring to the team?
I'm here to do a job on track and drive as fast as possible. I would like to bring the team energy, to put a spring in everyone's step because that's also part of my job and also my character. I aim to be able to get the team to work that extra bit harder. Put in more effort and rally everyone together. I want to be a catalyst for positive energy.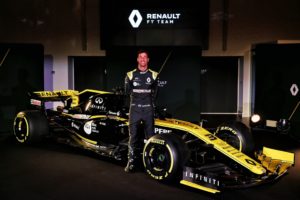 Are you looking forward to being part of Renault's racing spirit?
I love racing and that's what I've been doing my whole life. Renault has a massive history in motorsport, so to be part of the next step of their Formula 1 journey is an exciting challenge. People are looking forward to having me on board and I think Nico and myself will be a really good pairing to push the team onto the next step. I'm optimistic as the team will keep growing even more after impressive progress since 2016. I want to be part of this progression to score podiums in yellow.
What do you know of your new team-mate, Nico Hulkenberg?
I know Nico relatively well, through racing as well as living in Monaco. We're a similar age and we've been around the same Formulas growing up. I rate him as a driver, I always have. He has won pretty much everything in the junior championships and that underlines his ability. I've always held him in high regard as a competitor and I'm looking forward to having him alongside me.
Will there be anything different about you in 2019?
Last year we had some highs and some happy moments. There were also some points of frustration. I was craving a change and everything I learnt in 2018 will make me a better version of myself in 2019. The difference will be a more mature person. I have more clarity of where I'm going and I aim for that to be shown with good results on track. I feel a lot of positive pressure and expectation to do good things, but that's something I'm looking forward to taking on.
New steed. pic.twitter.com/ql58U6QxJQ

— Daniel Ricciardo (@danielricciardo) February 12, 2019