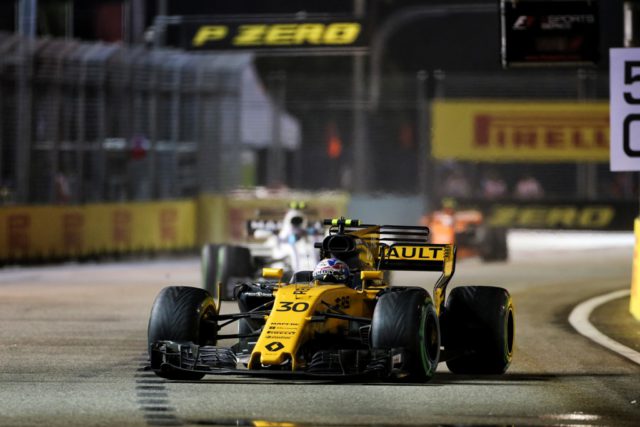 Jolyon Palmer finally made a second points finish in a Formula 1 race and it happened just a couple of days after he learned from the internet that Carlos Sainz will take his place at Renault in 2018.
The British driver finished sixth in the Singapore Grand prix, which is his best F1 result
"I'm so happy, it's been a long time coming but everything fell into place. It was a tricky race with the drama at the start and the heavy rain but the circumstances put us in a good place to score some points. We had a good strategy, good pit stops and the car was good in the wet conditions. The next race should be even better", Palmer commented.
? How did your #SingaporeGP go @JolyonPalmer?
"That was a great race ?" pic.twitter.com/JOUIpUNYlb

— Renault Sport F1 (@RenaultSportF1) September 17, 2017
Nico Hulkenberg avoided the drama at the start and advanced four positions in the first lap. But fortunes didn't favour the German as his car had an oil leak and he was forced to retire for preventative measures before the end of the race.
"It was a very disappointing race. You put in a lot of hard work throughout the weekend and then these things happen. It's not great but it is a technical sport and a team sport. Unfortunately, we had some technical issues with the engine and we had to retire the car", Hulkenberg said.
After the race in Singapore Renault moved ahead to seventh position in the Constructors' Championship
"The race was exciting and full of action with the rain and many safety cars – as it's often the case in Singapore", the Renault Sport Managing Director Cyril Abiteboul pointed out.
"We walk away with mixed feelings. On a positive note, Jolyon was able to get into the points for the first time this season and achieve his best result ever in F1. Despite the circumstances, he drove an error-free race on a night where it would have been easy to make many. He was able to help the team in its progress for the Constructors' Championship. We now sit in seventh place and closer to reaching our goal for fifth position. The final races are well suited for our cars and our target remains unchanged."
"On the other hand, we feel very sorry and I want to apologize to Nico for having to retire his car. We had an oil leak which translated in his car having to take a performance penalty in the earlier part of the race and even tried an intervention during a long pit stop. Despite all our attempts and a great teamwork from all his car wouldn't have made it to the end so we retired for preventative measures."