Nico Hulkenberg enters his third season with Renault F1 Team on the back of a career best championship finish in Formula 1 in 2018. Last season he claimed seventh in the drivers' standings. Nico made his Formula 1 debut in 2010. Except for a single-year absence in 2011, he has raced in every Formula 1 championship to date. As well as boasting five championship titles throughout his career, including GP2 in 2009 at the first attempt, Nico also has a Le Mans 24 Hours win to his name after taking victory in the prestigious event in 2015.
How have you spent the winter preparing for your ninth season in Formula 1?
I've been working as hard as ever throughout the winter to be best prepared for the season. I've been doing the usual kind of things, taking a holiday over Christmas and New Year, and after that it was back to the physical preparation and intense training to get the body and mind back in tune.
What are you expecting from your third season with Renault F1 Team?
As a team, we've developed a lot since the start of 2017. And that's all part of the process if we want to achieve our long-term targets. When I arrived, the infrastructure was still young, we've come a long way since then with a lot of progress from that point.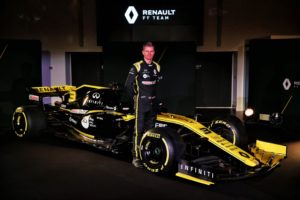 Are you impressed from what you've seen of the Renault R.S.19?
I've seen parts of the chassis at Enstone and there's been a lot of hard work from the staff across both sides of the Channel to put together a good package. I know what we're doing and what's been changed. So I can't wait to see it and try it out. A driver always wants more power, more grip and a better balance from the car.
How well do you know your new team-mate Daniel Ricciardo?
Daniel is a good guy and I've known him for many years from racing in Formula 1. He also lives in Monaco so I see him from time to time there. We both enjoy playing tennis and we've met up for a game on a couple of occasions. We get on well and we've always had a good relationship. We're a strong line-up, driving for a strong team so we're aiming for things to click, go smoothly and target a good season.
What are your personal targets for the 2019 Formula 1 season?
I always aim to perform at my very best. I want to extract the best from myself and maximise the potential from the team and the car. The important thing is, as a team, we take a good leap forward and perform better consistently. We want the trend to continue upwards and keep the developments coming.
very warm welcome at yesterday's pre-season debrief.. felt good! ? pic.twitter.com/OsOlfiRDAg

— Nico Hülkenberg (@HulkHulkenberg) February 12, 2019