The Circuit of Spa-Francorchamps revealed the layout of the purpose-built track which will host the third round of the FIA World Rallycross Championship. The race at the Spa World Rallycross of Benelux will be on 11 and 12 May.
The challenging, 913-metre track located in the endurance area of the Spa-Francorchamps circuit, incorporates one of the most iconic corners in world motorsport – Eau Rouge.
The spectacular ascent of the Raidillon and its 15% gradient is followed by a hairpin bend. Then it hurtles back towards the legendary Eau Rouge corner.
There is also a stadium section which features an extra wide, banked corner. The design allows drivers to take various racing lines. There are parallel jumps in the standard and Joker Laps.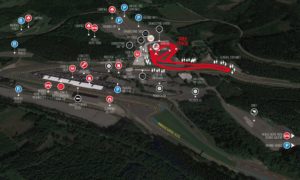 Spa-Francorchamps World Rallycross of Benelux track revealed
"Not only is the FIA World Rallycross visiting Belgium's famed Spa-Francorchamps circuit for the first time, but the local promoters have laid down a daunting challenge with the reveal of the purpose-built circuit layout," said Paul Bellamy, Senior Vice President of IMG Motorsports, the series promoter.
"Severe elevation changes, spectacular jumps and every racing driver's idea of the ultimate test of bravado – the famous Eau Rouge/Raidllion section – add up to the promise of pulsating racing."
The racing festival will also feature numerous activities. They include a test of road-going supercars on the legendary 7km Grand Prix circuit. There will also be drift sessions open to the general public. The program includes concerts as well as a battle of the DJs, a kids' zone and a food.
Hello @spaworldRX!

How do you all like the look of their brand new rallycross track?!

The spectacular ascent of the Raidillon and its 15% gradient is followed by a hairpin bend, before hurtling back towards the legendary Eau Rouge corner.

More: https://t.co/NkWTUu2KBD pic.twitter.com/qPJEIoMw1N

— FIA World Rallycross (@FIAWorldRX) February 6, 2019