Marc Marquez perfectly mastered a tactical race to take a stellar ninth straight win at the Sachsenring, after starting from pole position. The reigning World Champion saved his tyres while following Danilo Petrucci and Jorge Lorenzo in the early phases, took the lead on lap 13 when he decided it was time to try and pull a gap. In the latter stages of the race, when tyre consumption increased, he managed his advantage.
Looking strictly at the numbers, Marquez took a second consecutive win from pole, his fifth victory this season, his 40th MotoGP success, and his 66th across three classes, extending his Championship lead over Valentino Rossi to 46 points with 10 races remaining.
His ninth win at Sachsenring came after nine consecutive poles here, and in his 99th MotoGP race, at the season's ninth round
"Of course I'm very happy, as nine wins in a row here is incredible! But every year the pressure increases, because beginning on Thursday, everyone starts asking about winning on Sunday! Anyway, we have the experience to handle that as well. I expected the race to have different phases, with the first tyre drop happening after around nine laps and a final one seven to five laps from the end. I was prepared to manage the different situations, but in the beginning, it wasn't easy because my start wasn't perfect", Marquez explained.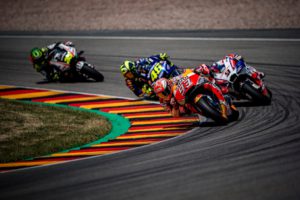 Marquez: On Thursday everyone starts asking about winning on Sunday!
"I expected that Lorenzo might pass me but not Petrucci. I lost two positions and then overtaking them wasn't easy. When I did it, I started to push in order to pull a gap but without being 'crazy' so that I could manage the tyre consumption until the end of the race. But then they signalled me that Valentino was closing in very fast, and when I saw 0.6 in the board I understood that I had to push again and completely use my tyres for two or three laps, so I did my fastest lap of the race."
Gran victoria en Sachsenring! Muy feliz! Gracias equipo, os merecéis las vacaciones! ??
Great victory in Sachsenring! Really happy! Thanks team, you deserve the holidays!#GermanGP@MotoGP pic.twitter.com/gmgXBWFoJ0

— Marc Márquez (@marcmarquez93) July 15, 2018
"I was able to open a gap again and then manage it. Then, when I was celebrating I saw a marshal with a No. 26 cap, so I took it and went to celebrate in front of the fans because I think this weekend Dani was the protagonist, and we'll miss him. We and Honda are working very well and we need to continue like this in the second part of the Championship with the same feeling we've had so far."
Never really comfortable with his bike's setup during the weekend, Dani Pedrosa could only improve upon his starting-grid spot by two positions, ending the race in eighth place
"It was a disappointing race because this is a track where I've always been faster, but we've been struggling all weekend with the bike setup. We managed to improve here and there a little bit but I never felt really comfortable. I did more or less the same lap times for the entire race, but not fast enough. We can't do anything else but continue working to try to improve the setting and feeling on the bike", Pedrosa said.