Families are spending less and less time together with 43% struggling to find time to eat as one. All of that means Christmas dinner is one of the rare occasions where everyone sits around the same table. To encourage families to switch off this Christmas and share quality time, Volkswagen Commercial Vehicles challenged chef and founder of the 5 O'Clock Apron blog, Claire Thomson, to go off-grid in the New Forest with her loved ones for a festive feast in a Volkswagen California.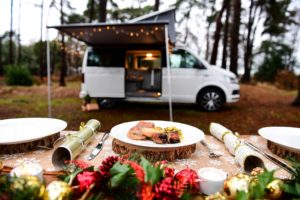 Kate Thompson, mother of two and Head of Press and Public Relations, of Volkswagen Commercial Vehicles, said:
"While for many the Christmas meal is daunting enough in a fully equipped kitchen at home, Claire proved the iconic campervan is all you need to cook up a delicious three course meal."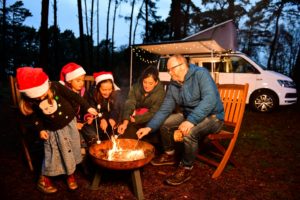 Claire and her husband – former Michelin starred chef, Matt Williamson – made use of the two gas hobs, fridge, and running tap. They all come as standard in the California Ocean. The couple also propped up the preparation table and rotated the two front seats. This way they created a spacious kitchen area in which to prepare their festive feast.
Claire created the original recipes to ensure they included all the essentials so her family weren't missing out on the true Christmas experience. For a starter, Claire cooked pan fried scallops with hazelnut butter and spinach.
A main course of turkey saltimbocca followed – with sautéed potatoes, chestnuts and sprouts and also spiced pickled pears
For the final touch, they had Christmas pudding fried with Marsala butter for dessert.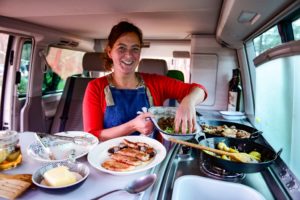 Claire Thomson, commented: "We have stayed in a Volkswagen California before and absolutely loved it. The kids like sleeping 'upstairs', in the top bunk and it genuinely has everything you need to create any meal – even a Christmas dinner. The hobs, fridge and sink make everything really simple, leaving you free to enjoy the time away with your family."
Our present for 2019! ? #SeasonsGreetings and all the best for 2019! ?#FutureofMobility pic.twitter.com/bDm0v9PHLd

— Volkswagen News (@vwpress_en) December 21, 2018