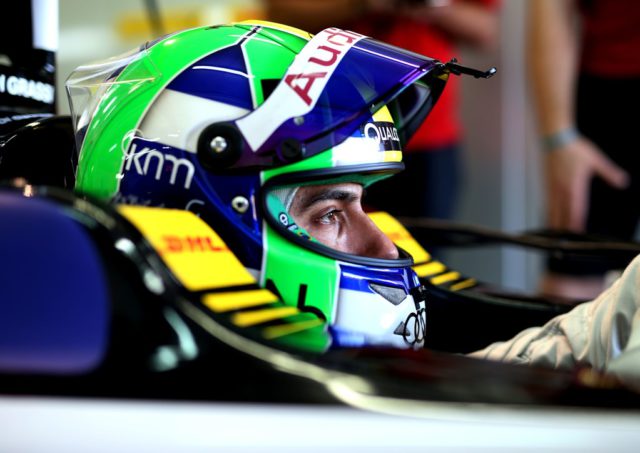 Three-time Indianapolis 500 winner Helio Castroneves and 2016-2017 Formula E Champion Lucas di Grassi have become the latest drivers confirmed to compete at the Race Of Champions. The event will take place on January 19-20, 2019. It will be at the Foro Sol, the amphitheatre forming part of Mexico City's Autódromo Hermanos Rodríguez Formula 1 circuit.
Castroneves and di Grassi will join forces for Team Brazil
They will compete against a field featuring Formula 1 legends Sebastian Vettel and David Coulthard, 'Mr Le Mans' Tom Kristensen, reigning FIA World Rally X Champion Johan Kristoffersson plus FIA F3 European Champion Mick Schumacher and Mexican racers Memo Rojas, Daniel Suárez, Benito Guerra and Patricio O'Ward.
Helio Castroneves is one of the greatest drivers in the history of IndyCar. He became the first driver to win the Indianapolis 500 back-to-back. That happened in his first two starts at the Brickyard in 2001 and 2002. Then he took a third win in 2009. He took a total of 30 IndyCar wins. Castroneves finished as the IndyCar Series runner-up four times prior to his retirement last year. The Brazilian now races in the WeatherTech SportsCar Championship. And he remains well known outside of motorsport for his triumph in the 2007 American TV Series Dancing with the Stars.
His record at the Race Of Champions is strong too
He has reached the final of the ROC Nations Cup earlier this year in Riyadh. Then Castroneves was in partnership with Juan Pablo Montoya for Team Latin America. Now he will aim to go one step further for Team Brazil alongside his new team-mate Lucas di Grassi.
Castroneves said: "The Race Of Champions is a tremendous event which gives us the chance to race in different places and different cultures, so it's a big honour to be invited back again. The cool thing about this event is that every driver has a chance, no matter what they're used to racing. The variety of cars means there's something suited to everyone, whether they race in open-wheelers, Rally X or NASCAR. So it really is all about the talent. I really look forward to putting on a great show for all the fans in Mexico City and I'm sure the atmosphere will be amazing."
Lucas di Grassi has a long and illustrious racing history of his own
He has been a regular fixture of the FIA Formula E series since the start. Di Grassi has finished in the championship top three in each of its four seasons so far. He has eight wins to his name and his highlight came when he sealed the overall title in 2016-2017.
The Brazilian (pictured below) also has a wide range of experience of other forms of motorsport, having raced in everything from Formula 1 to Le Mans, and taking two wins in the World Endurance Championship for Audi in 2016. Now di Grassi has earned his first Race Of Champions appearance in Mexico City next month.
Di Grassi said: "I'm super excited to be making my debut at the Race Of Champions at last"
"I've been following the event for many years, and I've always been impressed by the wide range of drivers who compete from all over the world and all the different varieties of motorsport. Now I'm delighted to have the chance to see and feel how it works first-hand – and especially to be partnering Helio on Team Brazil.
"It's going to be amazing to have the event in Mexico too. The Foro Sol is a fantastic venue with an incredible atmosphere – as I found when I won the Mexico City ePrix there last year. So it's going to be an awesome weekend. If you want to see some of the world's best drivers pushing to the limit in an enclosed space, come and see us!"