The second round of the world championship and the only event on the WRC calendar exclusively contested on snow and ice, Rally Sweden is something of an exercise in tightrope walking. To bolster its efforts to perform well in Scandinavia, Citroen Total Abu Dhabi WRT is entering a third C3 WRC for Mads Østberg – Torstein Eriksen, in addition to the usual crews of Kris Meeke – Paul Nagle and Craig Breen – Scott Martin.
It could be said that Sweden is to rallying what the Winter Olympics is to skiing
It is an iconic, unmissable event and the ultimate test in winter conditions. There the speeds reached are at least as high as the skill levels required behind the wheel.
Long the preserve of the Scandinavian drivers, their dominance at the event was stopped for the first time by Citroen and the Sebastien Loeb-Daniel Elena crew (Xsara WRC) in 2004. An achievement matched by only one other non-Nordic drive since. Needless to say, Nordic drivers still have an advantage on paper. Particularly due to their greater experience in these specific grip conditions. Citroen will have one in its line-up for this event, as Mads Østberg joins Kris Meeke and Craig Breen.
The Norwegian knows Citroen well, having scored seven podiums as a works driver for the team between 2014 and 2015. In Sweden, his reputation is largely due to his gravity-defying leaps over Colin's Crest. He also finished as runner-up in 2011. And since then Mads claimed four other podium finishes (3rd in 2012, 2013, 2014 and 2016).
"Rally Sweden is a special event for me and I have always been quick here, so I'm very happy to have this opportunity to rejoin the team", Østberg said
"I'm already up to speed in these conditions, having contested two winter rallies in Norway, the second of which I won. With the bigger snow banks this year, the roads are likely to be narrower and more technically demanding. So perhaps we Scandinavians may be able to take advantage of our greater experience in conditions like these."
Catch a ride with us at the @RallySweden pre-event test with @CitroenRacing #fightingviking
? @motorsportfilm pic.twitter.com/FZSYmHpWiV

— Mads Østberg (@MadsOstberg) February 11, 2018
Kris Meeke and Craig Breen can equally make a good case for them building on the haul of points racked up by the team in Monte Carlo.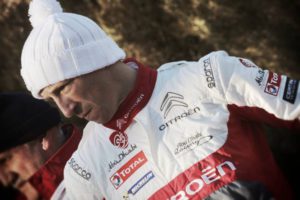 Kris was among the frontrunners on only his third appearance at the event in 2016
"It looks like we going to get perfect winter conditions this year. And like all the WRC drivers, I can't wait to get started! In the last few seasons, with a limited amount of snow, you had to be very cautious or risk getting stuck in a snow bank after the slightest impact. The snow banks seem to be bigger and more compact this time around. So we'll undoubtedly be able to drive more aggressively and use the banks more. But we may need a bit of time to get used to that. In any event, it's an exciting challenge. I'm going to try and tackle it with the same sensible approach as in Monte Carlo", Meeke commented.
Meanwhile, Craig has competed here five times – his best result being fifth place in 2017 – and really enjoys the specific difficulties of this very unusual event
"Between the start and end of last season, the C3 WRC made a lot of progress on gravel. So I hope it'll be the same on snow and ice. Especially as Sweden is one of my favourite rallies and one where I feel really confident. In fact, I had my very first race in a WRC here in 2014. And I also made my maiden appearance in Sweden with Citroen Racing in 2016. After a difficult Monte, I'd love to get decent points on the board. And it looks like the road conditions will be perfect for this year's rally, with really solid snow banks that are forgiving if you make a relatively minor mistake", Breen commented.
This year, just under a quarter of the course has been changed compared with last year's event. However, only a little over five kilometres of the Torsby stage are completely new. The ten or so different kilometres on Hagfors, as well as the Torntop stage, were already used in 2013 and 2014 respectively. One significant new element, however, is the large snow banks that look set to line the stages this year. This is likely to affect not only the width of the roads but also the angles at which the cars tackle the corners, and therefore the pace notes…
In recent years, mild weather during the rally has meant crews have become used to avoiding the packed snow lining the roads
But this time, they will need to make greater use of the snowbanks. That happens in order to exit the corners with as much speed as possible. It will be a great challenge, where experience may play a key role. And it should provide plenty of excitement and action!
"Given the speeds reached, you need confidence behind the wheel to produce fast times in Sweden. The purpose of [our latest] tests is to get our crews in the best possible shape for the rally, whilst taking advantage of road conditions that are closer to those we will encounter next week. With the addition of Mads Østberg, who has five podiums at this event, we have certainly strengthened the team. Especially as experience is critical here given the very limited number of kilometres covered on this surface every year. I also have high hopes that Kris, who was fighting at the front in 2016. Craig knows the event well and can show just how much our C3 WRC has improved since last year's rally", team principal Pierre Budar said.
Technical Director Christophe Besse added:
"Since February 2017, a lot of work has been done on the suspension geometry and the damper system, torque distribution between the axles, and the set-up of the centrally-controlled differential. These changes have already proven effective on gravel. The aim, therefore, will be to do the same thing on this unusual course, where you need to be on the pace straight away because the gaps are always very small."