FIA crowned the 2018 motorsport champions at a gala ceremony in the Grand Hall of the historic St Petersburg Philharmonia.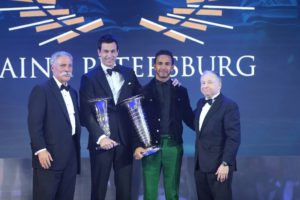 Lewis Hamilton and the Mercedes AMG Petronas F1 Team received their trophies for the fifth consecutive titles in the Formula 1 championship
Hamilton took a total of 11 victories during the year, finished off the podium on just three occasions and only once missed out on points across the campaign's 21 races.
"It was an unbelievable season. Did I enjoy the battle with Ferrari? No, I didn't, it's really tough. But If I look back, I wouldn't have done it any other way. It's what Formula 1 is all about. It's the pinnacle of motor racing and you expect your competitors to be very strong. In the end it makes the end result even more enjoyable", Mercedes motorsport director Toto Wolff said.
Sébastien Ogier and Julien Ingrassia took their sixth WRC crown
"It was an intense season", Ogier admitted. "The suspense was there right to the last moment of the season and to come out as the winner again was a great feeling. I think Rally Wales GB was the turning point. There were three rallies to go and we were 23 points behind the leaders. We needed a strong result and winning Rally GB was really important, for the points, but also mentally. I believe that from this moment on the pressure was on their shoulders. We all know that psychology has a big effect in sport and we just managed to be stronger in the last part of the season."
Jean-Eric Vergne triumphed in Formula E with great consistency throughout the whole season
"It gave me a huge amount of satisfaction and the team did a brilliant job. Nobody should forget that we started from scratch only a few years ago. What we have been able to achieve is absolutely outstanding. We did not have the fastest car, we are a private team, with the smallest budget – it was a great achievement for the guys in the team", Vergne explained.
Johan Kristoffersson took his second consecutive FIA World Rallycross Championship title
The Swede was practically invincible with 11 wins from 12 races.
"It's been an amazing season," said Kristoffersson. "It's tricky to get the feeling of how great it actually was. Going to every round with the target of being able to fight for the win but to be able to pull off 11 out of 12 in a sport like Rallycross, with the competition at the level it was this year, it shouldn't be possible to do it, but we did!"
Mick Schumacher took the award for his Formula 3 European Championship. CIK-FIA World Karting Champions Victor Bernier, Patrik Hájek and Lorenzo Travisanutto were also awarded their trophies.
A number of special FIA awards were also handed out in St Petersburg
Rookie of the Year prize (voted for by members of the FIA Drivers' Commission) – Charles Leclerc
Personality of the Year award (voted for by permanently accredited F1 media) – Lewis
Action of the Year prize 9voted for by fans of motorsport via the FIA's online channels) – Teemu Suninen
the President's Award – Mercedes Team Principal Toto Wolff and the team's Non-Executive Director Niki Lauda
?FIAPrizeGiving – FIA's 2018 Champions of motor sport crowned in the Grand Hall of the Saint Petersburg Philharmonia ?? pic.twitter.com/VpAZpKqLwA

— FIA (@fia) December 8, 2018