What's shaping up to be one of the best driver line-ups in international touring car racing history just got better following Lynk & Co Cyan Racing's announcement that it has signed three-time FIA world champion Andy Priaulx for the 2019 WTCR OSCARO.
Priaulx is the winner of the FIA World Touring Car Championship in 2005, 2006 and 2007. He will join forces with fellow former WTCC champions Thed Björk and Yvan Muller to drive a Lynk & Co 03 TCR developed by Geely Group Motorsport.
The exciting move follows news from Hyundai Motorsport earlier this month confirming the recruitment of Nicky Catsburg and Augusto Farfus to drive for its customer racing team attack on the 2019 WTCR – FIA World Touring Car Cup presented by OSCARO, alongside Norbert Michelisz and inaugural title winner Gabriele Tarquini.
"Legend is superlative perhaps used too often. But it's certainly appropriate when describing Andy Priaulx," said François Ribeiro, Head of Eurosport Events, the WTCR OSCARO promoter. "The first FIA World Touring Car champion of the Eurosport Events era in 2005, Andy is not just a great performer on track but a great ambassador off it. We can't wait to see him in action on what is set to be the highest quality and most competitive touring car grid ever."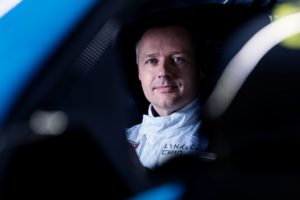 The signature of Andy Priaulx means Lynk & Co 03 TCR drivers have a total of eight FIA world titles between them
Muller has won the WTCC four times and Björk clinching the crown in 2017.
"Andy is a true touring car legend and his track record speaks for itself," said Christian Dahl, CEO of Cyan Racing. "His mix of experience and raw speed will be vital to us. We are glad to have him on board for the 2019 WTCR season. It looks to become one of the toughest ever."
Briton Priaulx, 44, has signed a multi-year contract to drive for Lynk & Co Cyan Racing. In recent years he competed in the FIA World Endurance Championship. He admits racing in WTCR OSCARO will be tough.
"I'm delighted to become a Lynk & Co Cyan Racing driver and I have no doubt that we are in a strong position to fight for the overall title already in our first year. We have a tough job ahead of us. The competition is as tough as it has ever been in the WTCR. But I have followed Cyan Racing's progress over the years. And it was an easy decision for me to join them."
WTCR OSCARO season two takes place over 30 races on 10 weekends in three continents. The action gets underway at WTCR Race of Morocco in Marrakech from 5-7 April 2019.
NEWS: Parallel to @FIAWEC programme I will be racing for @LynkCoGlobal @Cyan_Racing in @FIA_WTCR in 2019. This is a really exciting project and I am so thankful to @FordPerformance / @MultimaticRace for giving me this chance! #WTCR #JoinLynkCoCyan pic.twitter.com/Sop7otmwk1

— Andy Priaulx MBE (@andypriaulx) December 10, 2018