Two-time Wimbledon Champion Andy Murray has fulfilled the promise he made during WWF's World Earth Hour. It was a promise to 'go electric' and become one of the first Jaguar I-PACE customers on World Environment Day.
Panasonic Jaguar Racing driver and fellow WWF ambassador, Nelson Piquet Jr visited the British tennis star at his training camp and made a special delivery ahead of the grass court season.
"It's important we all take small steps to live a more sustainable life and think about the actions we can make to look after our planet. This is one of the reasons I'm making the switch to driving Jaguar's new all-electric I-PACE. It's clean and safe, but also has the world-class design and sports performance that suits my lifestyle."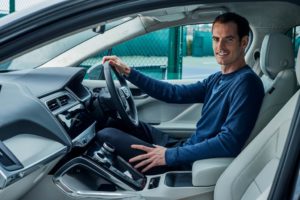 Andy Murray goes electric with Jaguar I-PACE
Nelson Piquet Jr, Panasonic Jaguar Racing driver, said: "I think it's brilliant that Andy has made this commitment to go electric and has been vocal in encouraging more people to take action and make little changes to live more sustainably.
"The Jaguar I-PACE is proof that you don't have to sacrifice power or performance when you switch to electric."
The Jaguar I-PACE is a ground-breaking electric vehicle. It has rapid charging – from 0-80 per cent in 45 minutes. The vehicle offers as well a range of up to 298 miles on a single charge. The I-PACE delivers sustainable sports car performance, next-generation artificial intelligence (AI) technology and five-seat SUV practicality. Thus it places Jaguar at the forefront of the electric vehicle revolution.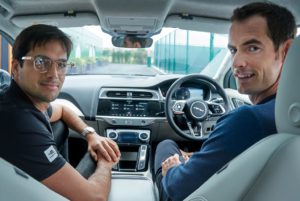 "Jaguar's commitment to electrification is clearly demonstrated in the technological advancements they have made over the last couple of years. Their involvement in Formula E has been instrumental to that. It's great to be part of this movement and to help promote and shape the future of battery electric vehicles," added Piquet Jr.
#WorldEnvironmentDay means #NewCarDay for @AndyMurray. After he made the pledge, I delivered him a brand-new all electric @jaguar #IPACE. #RaceToInnovate @WWF pic.twitter.com/u37elSc8VT

— Nelson Piquet Jr. (@NelsonPiquet) June 5, 2018