The McLaren, Sauber and Force India teams preview the final round of the 2018 Formula 1 World Championship – the Abu Dhabi Grand prix.
Fernando Alonso
"Abu Dhabi will certainly be very emotional race for me, as it will be the end of a long and happy 17 years in Formula 1. The time has come for me to move on, but I'm looking forward to ending the season – and my F1 career – on a positive note.
"I'm also pleased that my relationship with McLaren will continue with the Indy 500, and there will be more new challenges together. There are very exciting things ahead, and I'm enthusiastic for what the future will bring. For now, I'm not ruling anything out.
"I'm fully focussed on this weekend in Abu Dhabi, and making the most of every day – in the car, with the team, and with my friends and family. Abu Dhabi is a tough circuit, but we don't have anything to lose, so both Stoffel and I will be fighting hard as always."
View this post on Instagram

Stoffel Vandoorne
"I'm heading to Abu Dhabi with mixed emotions. Although I've spent two years as a Formula 1 driver with McLaren, I've been with the team for five years and call many of them my friends. I've built a great relationship with McLaren and it's been a significant part of my life. My final grand prix as a McLaren driver on Sunday will be sentimental, but also the right time to say goodbye to this chapter in my career.
"I want to leave Abu Dhabi on a high, so we'll be putting everything we can into maximising our weekend and getting the most out of it. I have great memories from Abu Dhabi in my junior career, and it's a really cool atmosphere as you race from day into night.
"I'm excited for the next challenge – which begins in only a few weeks – but I also want to enjoy every moment in the car and with the team this weekend for the final time."
One. More. Time. pic.twitter.com/3s7utZrYNP

— Stoffel Vandoorne (@svandoorne) November 19, 2018
Marcus Ericsson
"We are off to the last Grand Prix of the year – the last race for me in this stint in Formula One. It will be a special weekend, and I aim to finish it on a high. We have had some good results recently, and our form is strong. The car is competitive, and we will push to bring home some more points. I look forward to this season finale very much."
Last @F1 trip for this time with team #ME9 ??. Almost 5 years since the F1 journey started, with these 2 always by my side. Time sure flies! Let's finish it in style with a great weekend in Abu Dhabi #ME9 #F12018 pic.twitter.com/EKZWtPfyxV

— Marcus Ericsson (@Ericsson_Marcus) November 20, 2018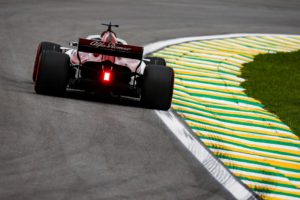 Charles Leclerc
"I am looking forward to going to Abu Dhabi. I know the circuit and enjoy driving there. It is the last race of the season, and the ambience is always great. I also like the city very much – it is one of my favourite destinations on the calendar. The track is quite technical, and hopefully, we will be as competitive as we have been in the past few races."
Sergio Perez
"Abu Dhabi will be the closing chapter of a very unusual year for both me and the team. It was probably the most complicated season of my career, having to deal with so many things happening inside and outside the cockpit. The final race of the year is the opportunity to look back at the work we have done in the last twelve months and I am proud and grateful to everyone working back at the factory, in the garage, and in the hospitality. This team never stops fighting; we never stop working and now we are looking at a very promising future. I am really happy to be part of this family and I am already looking forward to 2019.
"I enjoy the Abu Dhabi race. You drive into the sunset and when all the lights come on it looks really cool. It's a track that is very hard on the brakes, with a lot of emphasis on traction out of some slow corners. You need a very stable car at the rear to make the most of those braking areas. There are some unusual corner combinations that are interesting in the car and there are overtaking chances at the end of both long straights, so you often find yourself either attacking or defending, especially towards the end of the race.
"It's a track where we have been competitive for the last few years and I would love to end the season with a strong result. I am still aiming for seventh place in the drivers' championship. I know it is going to be hard, but on Sunday anything can happen and I want to be ready if the chance is there. The team is also aiming for sixth place in the constructors' so we need to deliver a perfect weekend.
"After the race and next week's test it's finally going to be time for some holidays. I am looking forward to enjoying my family, time with my wife and my baby, and seeing my friends before work starts for next season."
Esteban Ocon
"It's always a bittersweet feeling when you get to the end of the season. But the main motivation is to finish on a high, especially when there is so much at stake in the championship. The last couple of races have been very disappointing, but there's still one last chance to score a good result before the end of the year.
"Abu Dhabi is always good fun. We travel there when it's getting cold in Europe so it feels a bit like you're going on a holiday. It's a wonderful paddock too – one of the best – and I always feel very relaxed there.
"I have a lot of good memories from Abu Dhabi. It's the place where I first drove during a Formula One weekend. And I was crowned GP3 champion there. The start of that race in 2015 was incredible – I knew I had to take the title right there on lap one and I did it."
Last race of the season coming up on the one and only @ymcofficial ! Looking forward it's always special there? #f1finale #EO31 pic.twitter.com/uJMabZcyd3

— Esteban Ocon (@OconEsteban) November 19, 2018