Ducati and Casey Stoner will not continue the collaboration agreement that has seen them work together since 2016.
The accord had been stipulated on a three-year basis (2016-2018). In these three years, thanks also to Casey's important contribution, Ducati has constantly improved the performance of the Desmosedici GP. It is now considered to be one of the most competitive bikes in the MotoGP World Championship.
The collaboration between Ducati and Stoner also contributed to the final development of the Panigale V4. It also offered important suggestions for the development of other bikes currently in the Ducati range. In his role as Ducati 'brand ambassador', Casey was one of the undisputed stars of the last two editions of WDW (World Ducati Week). The Australian champion actively took part in 2016 and 2018.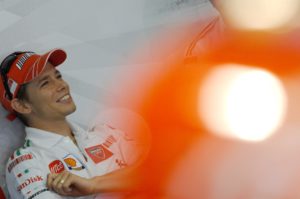 Casey Stoner and Ducati conclude their collaboration
"Casey is and will always remain in the hearts of Ducatisti. And it is also on their behalf that we wish to thank him for the important collaboration he has offered us over the last three years," commented Claudio Domenicali, CEO of Ducati Motor Holding S.p.A. "His technical indications and suggestions, together with the work and the feedback of the factory riders and Michele Pirro, have helped to make the Desmosedici GP one of the most competitive bikes on the grid. And his advice for the development of our production bikes has been just as precious and useful. Ducati and its many fans wish to offer their sincere thanks and their best wishes to Casey and his family for a serene and happy future."
"I want to thank Ducati for the great memories. And especially the support and enthusiasm of the Ducati fans for our shared passion for racing and motorcycling. I'll always remember this," added Casey Stoner. "Over the past three years, I have really enjoyed doing my job with the test team, the engineers and technicians, as we worked towards improving the Desmosedici GP package. And I sincerely want to wish the team all the very best for their future endeavours."