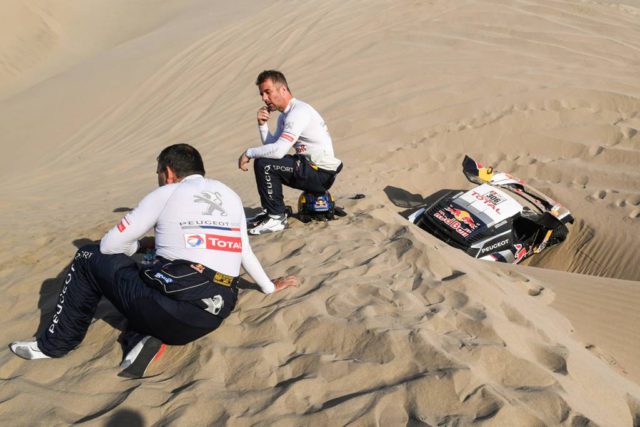 Sébastien Loeb and Daniel Elena retired from second place in the 2018 Dakar Rally. At kilometre five of the stage morning, they fell into a dustbowl after trying to avoid another competitor stuck on a dune. Following this major impact, Daniel Elena experienced severe pain in his sternum and coccyx. After assistance from a truck, their Peugeot 3008DKR Maxi continued and completed the stage. But Elena could not sit upright. So they had no choice but to retire for medical reasons after the first loop.
"It was a very complicated start: the sand was very loose, the car just wouldn't climb up the dunes, and we got stuck more or less straight away for 20 minutes or so", Loeb explained.
"Then when we got going again, we were able to follow the tracks from everyone else, and that helped a lot. We got to a place where there was another competitor stopped on a crest: in order not to have to stop while we were climbing I went right to avoid him… but there was a hole just over the crest that we hadn't seen. We hit it hard. There was nothing more we could do but wait for the truck to pull us out. Daniel was in a lot of pain from the impact. We even finished the stage really slowly, in order not to make the pain worse. Given Daniel's injury, we were left with no option but to retire."
Elena confirmed they fell into the sand-hole as they just could not see what was ahead. He also said the impact was big.
"I immediately felt a sharp pain in my sternum and coccyx which didn't go away", he continued. "I was in so much pain that we had to finish the stage in slow motion – had to stretch myself out in my seat just to avoid the pain of sitting down. Usually, I do not give up, but I really don't feel I can continue on terrain where there are so many compressions."
Loeb: "There was nothing more we could do but wait for the truck to pull us out. Daniel was in a lot of pain from the impact"
Peugeot Sport director Bruno Famin said the 2018 Dakar is very hard so the team has no idea how it's going to end up.
"Even though we have quite a big lead in the overall classification after today, after what we have seen so far we can't really be sure of anything. We knew that Wednesday would be the last but the most complicated of the sandy desert stages and it has been truly fearsome for most of the competitors. Sébastien and Daniel were really unlucky because it was only through trying to keep up a good pace that they fell into that hole, which they didn't see. It's all the more hard to take given that the car is intact, but obviously Daniel cannot continue like this", Famin added.
?ABANDON DE SEBASTIEN LOEB !!?
Après la blessure de son copilote, Loeb quitte les routes du Dakar ? #Dakar2018 pic.twitter.com/G6LkhZZohX

— francetvsport (@francetvsport) January 10, 2018