Kevin Ceccon underlined his huge promise with a stunning triumph on his Suzuka debut, claiming victory in Race 1 at WTCR JVCKENWOOD Race of Japan to become winner number 14 of 2018, such is the wide-open nature of the WTCR – FIA World Touring Car Cup presented by OSCARO.
Driving an Alfa Romeo Giulietta TCR by Romeo Ferraris, the Team Mulsanne-run Italian started second but overtook DHL pole-sitter Aurélien Comte on the run to the chicane at the end of the second lap. Keeping his composure during two safety car periods, the 25-year-old held on for victory, radioing his team two corners from home to ensure they were in position to celebrate their momentous win.
"We are quite quick in Japan!" said a delighted Ceccon after stepping from his Alfa
"I had a good, fair fight with Comte and was able to take the lead, then there were so many safety cars! It's an amazing weekend for me, for the team and for Alfa Romeo. We just have to keep going tomorrow. I start in P10 in Race 2, then in Race 3 I'll try and do this again from pole position."
Behind Comte (DG Sport Compétition PEUGEOT 308TCR), Yvan Muller kept Esteban Guerrieri at bay to claim third place in his YMR Hyundai i30 N TCR and join Gabriele Tarquini (BRC Racing Hyundai) at the top of the standings with five races of the season remaining.
Race 1 recap: It's Kev-win Ceccon as youngster scores maiden WTCR victory
Starting second on the grid, Kevin Ceccon followed DHL Pole Position starter, Aurélien Comte, away from the lights, then picked up a great run out of the fast 130R left-hander on lap two to take a lead he would not lose.
The first safety car interruption followed on lap three after Thed Björk clipped the tyre stack at the chicane when trying to regain a lost place to Gordon Shedden. The second, on lap eight, was for Yann Ehrlacher's beached ALL-INKL.COM Münnich Motorsport Honda Civic Type R TCR which had gone off at 130R having already clashed with Rob Huff's Volkswagen Golf GTI TCR. But on both occasions, Ceccon handled the restarts perfectly to protect his lead and win from Comte by 0.728 seconds.
Yvan Muller completed the podium, the Frenchman maintaining his starting position. He is now on a tie on points with Gabriele Tarquini at the top of the championship table.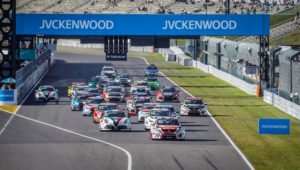 Muller held off ALL-INKL.COM Münnich Motorsport's Esteban Guerrieri
The Argentinian finished fourth despite being one of six drivers to incur three-place grid penalties after qualifying. Mehdi Bennani's Sébastien Loeb Racing Volkswagen was fifth ahead of Audi Sport Leopard Lukoil Team's Jean-Karl Vernay, meaning six different customer racing brands filled the top six places.
Comte's team-mate Mato Homola rose from ninth on the grid to seventh ahead of Tarquini's BRC Racing Team Hyundai, with Audi Sport Team Comtoyou's Frédéric Vervisch and Team OSCARO by Campos Racing's Cupra TCR of Pepe Oriola completing the top 10.
Norbert Michelisz just missed out on points in P11 for BRC Racing Team, with Nathanaël Berthon, Aurélien Panis and Team Mulsanne's WTCR debutant Luigi Ferrara following next.
Tiago Monteiro was P15 at the end of his heroic return to action following his recovery from serious injuries, the Boutsen Ginion Racing Honda finishing ahead of Denis Dupont's Audi.
Tiago Monteiro placed 15 on his comeback from serious injury, revealing afterwards that he thought he was dreaming as he headed to the grid for the start. Monteiro hadn't raced since WTCC Race of Argentina in July 2017 but he returned with P15 in his Boutsen Ginion Racing Honda Civic.
"It's a great feeling to be back," he said. "As I've said before, the whole weekend has been very emotional and very exciting and I'm enjoying the moment really. The warm-up lap was actually very tense, it was quite strange. I felt like I was almost dreaming, like I wasn't really here and at the same time it felt like it was two or three weeks ago. It was very surreal. Then in the race it felt normal, you're doing your stuff. I just did my race, to understand the car, tried to push and have fun. And I did. I enjoyed it."