The three-way fight for this year's World Rally Championship crown looks set to go down to the wire in Australia next month but before that, the protagonists face the mixed-surface challenge of Rally Spain. Sébastien Ogier boosted the defence of his title with a superb win in Wales, bringing him to within seven points of Thierry Neuville. Ott Tanak came down to earth with a bump (and a damaged radiator) but cannot be discounted, such is his speed of late. Mixing it again with these three current-day greats will be the nine-time world champion Sébastien Loeb, who makes his third and final outing of the year for Citroen.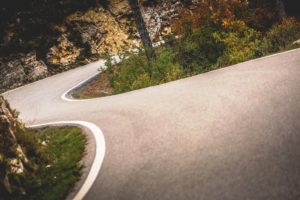 Rally Spain: Taking the rough with the smooth
Rally Spain might be based in the coastal resort of Salou, not far from Barcelona, but there's no time for a holiday for either the drivers or the teams, who must deal with the challenges of the WRC's only true mixed-surface event.
The first full day of the rally takes place on gravel, with medium-speed stages similar in nature to those that the crews already faced in neighbouring Portugal earlier in the season. Then it is onto asphalt for the final two days. Specifically, it's super-smooth asphalt, the thing that this rally is most famous for. The drivers love it and say it's the closest thing that they get to driving on a racing circuit. But it can take some getting used to when you're switching from gravel.
Before the cars take to asphalt, the teams must convert the cars from gravel specification within a 75-minute service on Friday evening.
The rally actually begins on asphalt on Thursday evening, with a spectator-friendly stage in Barcelona in the Montjuic area that used to hold Spain's Formula 1 race.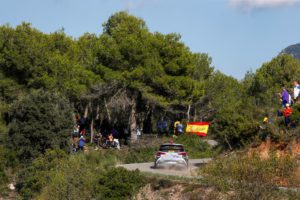 Rally de España schedule (GMT+2 until 27/10, GMT+1 afterwards)
Thursday, 25 October
8.00am: Shakedown – Salou (2.00km)
1.15pm: Start (Salou)
6.08pm: SS1 – Barcelona (3.20km)
8.08pm: Parc ferme (PortAventura)
Friday, 26 October
8.00am: Service A (PortAventura – 15 mins)
9.33am: SS2 – Gandesa 1 (7.00km)
10.06am: SS3 – Pesells 1 (26.59km)
11.20am: SS4 – La Fatarella – Vilalba 1 (38.85km)
1.35pm: Service B (PortAventura – 30 mins)
3.23pm: SS5 – Gandesa 2 (7.00km)
3.56pm: SS6 – Pesells 2 (26.59km)
5.10pm: SS7 – La Fatarella – Vilalba 2 (38.85km)
7.20pm: Flexi Service C (PortAventura – 1 hr 15 mins)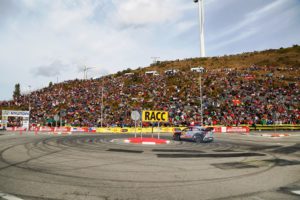 Saturday, 27 October
6.45am: Service D (PortAventura – 15 mins)
8.23am: SS8 – Savallà 1 (14.12km)
9.08am: SS9 – Querol 1 (21.26km)
10.08am: SS10 – El Montmell 1 (24.40km)
11.43am: Service E (PortAventura – 30 mins)
1.28pm: SS11 – Savallà 2 (14.12km)
2.10pm: SS12 – Querol 2 (21.26km)
3.08pm: SS13 – El Montmell 2 (24.40km)
5.00pm: SS14 – Salou (2.24km)
5.30pm: Flexi Service F (PortAventura – 45 mins)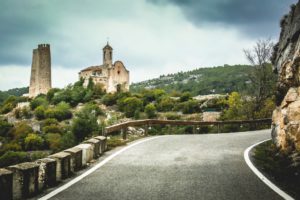 Sunday, 28 October
6.45am: Service G (PortAventura – 15 mins)
7.35am: SS15 – Riudecanyes 1 (16.35km)
8.38am: SS16 – Santa Marina 1 (14.50km)
9.45am: Service H (PortAventura – 30 mins)
10.50am: SS17 – Riudecanyes 2 (16.35km)
12.18pm: SS18 – Santa Marina 2 Power Stage (14.50km)
1.41pm: Service I (PortAventura – 10 mins)
2.01pm: Podium (Salou)
This week ????#RallyRACC!!!#WRC@catexperience @costadauradatur @visitsalou @Portaventura_ES @barcelona_cat @Toyota_Esp @OfficialWRC @ClubRACC pic.twitter.com/YPyIuu3IRt

— RallyRACC (@RallyRACC) October 22, 2018