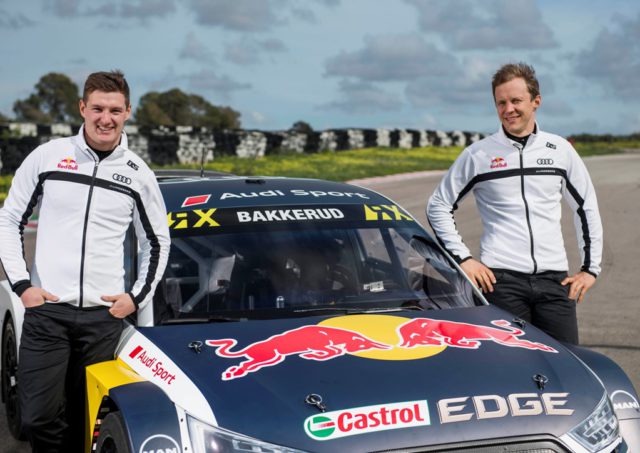 The EKS Audi Sport team presented the second-generation Audi S1 EKS RX quattro in which Mattias Ekström and his new teammate, Andreas Bakkerud, will contest the 2018 season.
The calendar features a total of twelve rounds on three continents (Europe, North America, Africa). For 2020, the series is planning to switch to fully electric powertrains. "This prospect is one of the reasons why Audi continues intensifying its commitment in the World Rallycross Championship this year," says Head of Audi Motorsport Dieter Gass.
Ekström had formed his rallycross team at the beginning of 2014 and went on to lead it to the top of the world's ranking within the space of just three years. In 2016, Ekström and EKS won the drivers' and teams' world championships. In the 2017 season, Ekström scored four victories. After that, he celebrated the runner-up's spot in the championship and EKS placed third in the teams' classification.
Looking at the new season, Ekström and Team EKS Audi Sport are brimming with energy: "With intensified support from Audi we intend to battle for victories as well as for the World RX titles in the drivers' and teams' championship again," says the Swede. To achieve this goal, EKS Audi Sport will be on the grid with two new Audi S1 EKS RX quattro cars. "We were driving more or less the same cars for four years. Now we've prepared two all-new ones, practically the second generation of our winning car."
The EKS Audi Sport team presented the second-generation Audi S1 EKS RX quattro
Audi Sport's involvement in this is bigger than ever. The focus in 2017 when Audi Sport came on board was primarily placed on development work as well as support for tests and races. Later the development of the now 580-hp Audi S1 EKS RX quattro intensified for the 2018 season. Among other things, the S1 received a new aerodynamics package that enhances performance. At all twelve WRX rounds, Audi employees will be at the race tracks to assist EKS Audi Sport in taking care of the engine.
"Anyone can see the modifications that have been made to aerodynamics at first glance," says Ekström. "But underneath the body shell, a lot has happened as well. We've made a clear step, the first tests were promising. Last year, we started the season as the hunted, now we're the hunters."
Here it is! The new @EKSRX Audi Sport livery for the Audi S1 EKS RX quattro in the 2018 @FIAWorldRX. More of this at @SilverstoneUK today. @mattiasekstroem @AndreasBakkerud #WorldRX #EKSRX #LeagueofPerformance pic.twitter.com/VT8OsZMjOn

— Audi Sport (@audisport) March 26, 2018