The battle for the 2018 World Championship crown in Formula 1 continues after Lewis Hamilton did not take enough points at the Circuit of the Americas to end it. The English Mercedes driver finished on the podium after trying at the end of the US Grand prix to pass Max Verstappen. But even if he had managed to get in front of the Red Bull driver. He still would have not won the title as Sebastian Vettel got fourth from Valtteri Bottas. That might have postponed the inevitable but at least there were nice battles on track.
"It was actually a really fun race, to be close with Kimi [Raikkonen] and have a bit of a battle with him and Max", Hamilton commented after the race
"It was quite cool that it was Ferrari, Red Bull and us battling for positions and it must have been exciting to watch. Naturally, I'm a bit disappointed in our performance, to have started first but finished third, but I'm still grateful that I managed to finish up ahead of Seb. When you don't have Friday practice you don't get to work on the set-up and get the optimum out of the car. Everyone was in the same boat, but I think ultimately Ferrari came closer to us with the changes they made."
"In the race, we were lacking pace on the straights, but I gave it everything. I was still pushing like crazy and that's what racing is all about. I had one little chance at the end, but I had to give Max a lot of space because it's better to finish third than get taken out by someone who's not fighting for the championship, so I didn't want to take that risk. We were going for the win, but it wasn't meant to be. We're going to Mexico next; it's such a beautiful place, but I haven't always had the best results there, so I definitely want to win that race."
Respect ? #USGP ??pic.twitter.com/86vWwLlBpM

— Mercedes-AMG F1 (@MercedesAMGF1) October 22, 2018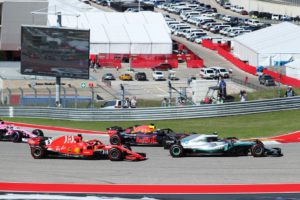 It was almost over for Vettel at the very beginning of the race when he spun after a tussle with Daniel Ricciardo
In the end, he managed to get back most of the lost positions and to finish fourth. His teammate Kimi Raikkonen won the race.
"I am really, really happy for Kimi and his result. But I am not happy with my race and I am disappointed for letting the team down today. I had a contact with Ricciardo on lap one, I am not sure he saw me when I was getting closer to him. I wanted to put him under pressure for the next corner, I wasn't thinking about passing in that point at any rate, but I had nowhere to go, we touched wheels and I span around", Vettel explained.
"This has been an important race for us as a team and it's nice to see that we had a good pace during the race, even though there are still many things we need to learn and to understand. It has not been an easy time for me lately and bad results are part of the game, but I believe it's always possible to overcome issues."
Vettel's race and title hopes were almost over before the end of Lap 1 ? #USGP ?? #F1 pic.twitter.com/o13JaOxub8

— Formula 1 (@F1) October 21, 2018