"Fucking finally, thank you, guys!", was the reaction of Kimi Raikkonen when the Ferrari pitwall congratulated him on his US Grand prix victory. It was his first win in 113 races but the Finn was his usual calm and composed self after the chequered flag.
2,044 days after his last win, Kimi sums up his feelings… #USGP ?? #F1 pic.twitter.com/Zm2j6itcv6

— Formula 1 (@F1) October 22, 2018
"Obviously it's a great feeling to win this race. It's nice to prove to all the people that we can still win; that's the reason we are here for, try to win races and Championships. It was an exciting race, not only for us but also for all those who were watching. We had a very solid weekend, I felt confident and I'm glad about that especially because lately we've had rough weekends for the team", Raikkonen commented.
"I'm glad we had a fight and it's nice to see that we still have the speed to go for it and fight has hard as we can. We found the car that we expected to have. The start was a key moment. In the first part of the race we had the speed, I tried to take care of tires and save fuel. Then the Mercedes stopped and came back on fresher tires: at that time, my target was to keep them behind before we, too, stopped for tyres. If [Lewis] Hamilton had passed us before our stop, it would have been a different story. We are still in the fight for both Championships and this is a good thing. We're off to Mexico now, where we'll try do the best we can and hopefully we can get a great result for both teams. We'll keep fighting until the end."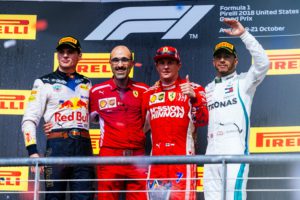 Raikkonen: "Fucking finally!"
Ferrari's team principal Maurizio Arrivabene added that the win "came courtesy of Kimi who drove a great race and the team, which at such a tricky time, showed great courage in taking a step back, fighting our closest rivals on equal terms."
"Seb [Vettel] was unfortunate and had to fight his way back up the order after the collision on the opening lap. In the championship, the numbers are against us, but we will knuckle down and fight all the way to the end, just as we did at COTA."
Look at that grin! ??#USGP ?? #F1 pic.twitter.com/EdkhKDMmli

— Formula 1 (@F1) October 22, 2018